But we knew that already. Before I started creating the short list of auctions for this month's edition of Top eBay Chess Items by Price (March 2010), I reckoned it would be a dry month, what with the coronavirus and all. In fact, there appeared to be more activity on eBay than I usually see in a month. Are people taking advantage of the stay-at-home orders to buy stuff online?
The item pictured below was titled '"Chess Game" oil painting by Ann Krasner'. It sold for 'US $1,350.00 or Best Offer'. (So which was it?)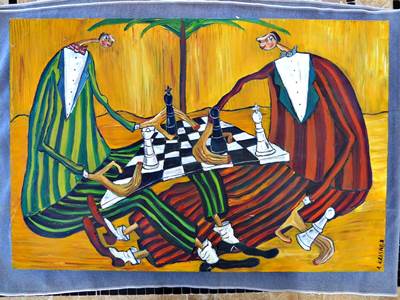 The description was terse:-
"Chess Game" by Ann Krasner
Oil painting on canvas
Size: 18 inch x 36 inch
Not framed
Signed by artist
That was accompanied by a brief biography about the artist, excerpted below. Note the source. For the complete bio, see Ann Krasner (artnet.com).
Ann Krasner was born on January 17, 1967 in Moscow, USSR. She grew up among people interested in science, music, photography, ballet and theater. As a child, she was chosen to study in the Bolshoy Theater Ballet Studio, Moscow Musical School in the class of piano and musical theory, and started her general education in Advanced Experimental Math/Physics School for gifted children.

Ann's work now resides in the permanent collections of the Boston Museum of Art and the Springfield Art Museum and she has had exhibitions in major museums across the country, including, Philadelphia Museum of Art, Springfield Museum, Carnegie Art Museum, Laguna Art Museum, and San Diego Museum of Art, just to name a few. (Source: ArtNet)
The painting reminds me of the scene in 'Men in Black' where the gun-selling extraterrestial's head grows back. Maybe I should have titled this post 'Extraterrestials Play Chess'.