I last looked at the two world class engine-vs-engine competitions a fortnight ago, in TCEC S17 DivP & CCC13 Heptagonal Underway (March 2020). Both competitions were getting close to the selection of the two top engines for the final stage. Here's a summary of that post:-
TCEC: In Premier Division (aka DivP), the six-engine 'CPU only' section finished with Stockfish leading. The four GPU engines entered the division, which will run for another week. The top two engines promote to the final match. • CCC: Stockfish is currently leading the seven-engine Heptagonal, slightly ahead of Lc0 and Leelenstein. The fourth spot in the Semifinal is still up for grabs.
When those events finished, the same pair of engines had qualified into both final matches, which are now well underway. Let's have an overview of the current status.
TCEC: The diagram shows the results for the first five engines in the Premier Division. LCZero finished 0.5 points ahead of Stockfish, which finished 2.0 points ahead of third place Alliestein.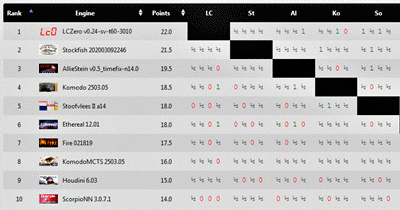 LCZero is currently leading +8-6=25 in the 100-game final match, aka TCEC Superfinal. This extrapolates to a four or five point win for the full match.
CCC: In the Heptagonal, the fourth spot for the Semifinal went to Komodo. In the Semifinal, Lc0 finished 4.0 points ahead of Stockfish, which was just 0.5 points ahead of third place Leelenstein. Komodo was the only engine to finish with a minus score. In the 200-game final match, Lc0 has a 10.0 point lead over Stockfish with 40 games left to be played.
Both the TCEC and the CCC final matches will have finished by the time of my next post. Leela is on course to win both.
[For further information from the various stakeholders in the engine-to-engine events, see the tab 'TCEC/CCC Links' at the top of this page. • NB: Leela = LC0 = LCzero]