Two weeks ago, as I reported in the post TCEC FRC2 Underway; CCC 'Currently Uncertain' (November 2020), the two world-class, ongoing engine vs. engine competitions were running side events. The situation was the following:-
TCEC: The site ran a chess960 event, dubbed 'FRC2'. It started with 16 engines which were eventually reduced to four engines in a 'Final League', currently underway. This will be followed by two engines in a 'Final' match. • CCC: The site is currently running the 'CCC Blitz Championship 2020' with 16 engines, scheduled to finish in a few days. According to the site's !Command, '!next = Currently uncertain'. Former TD Greco hasn't been seen on Chess.com since early October.
In the meantime, both sites have advanced in their plans. Here is the current situation.
TCEC: In the FRC2 final league, LCZero and Stockfish finished first and second to qualify for the 50-game final match. Stockfish beat LCZero +8-0=42.
The next edition of the TCEC's showcase event, Season 20 (S20), kicked off with a seven-engine 'Qualification League', won by Seer, another NNUE engine. Seer also won the next stage of S20, a ten-engine event called 'League 4'. The following stage, 'League 3', also a ten-engine event, is currently underway. A command on TCEC informs,
!nnues • Engines at TCEC that support NNUE: Ethereal, Halogen*, Igel*, Koivisto, Komodo, Marvin*, Minic*, Nemorino*, rofChade, RubiChess*, Scorpio, Seer*, Stockfish*, * = Have used NNUE at TCEC.
We'll know in a few weeks how many of those NNUE engines reach the last round-robin stage, the 'Premier Division'.
CCC: The top six engines of the 'CCC Blitz Championship 2020' qualified into the semi-final stage; the final crosstable for the semi-finals is shown below. Stockfish won all of its mini-matches to qualify easily into the final match. Lc0 struggled, winning two matches by a single game and drawing another match, to qualify as the second engine. With a little more than half of the 500-game final match completed, Stockfish has a comfortable lead over Lc0.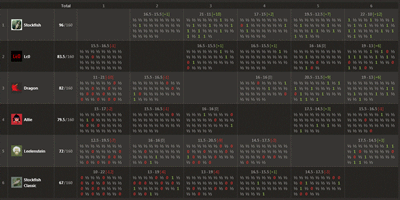 In the previous post, 'CCC Currently Uncertain', I mentioned that Chess.com was looking for a new CCC TD. The job description has disappeared from the site's 'Work At' page and a name has been given on the CCC's Discord site. Since I'm not a Chess.com insider, I'll wait for them to announce the new responsible(s).
[For further information from the various stakeholders in the engine-to-engine events, see the tab 'TCEC/CCC Links' at the top of this page. • NB: Leela = LC0 = LCzero]