In this monthly series on The Sociology of Chess (November 2016), last month's post Hopelessly Entangled Topics (November 2020), asked,
Which of the two themes -- Netflix 'Queen's Gambit' -or- the online boom -- will turn out to be the biggest chess story of 2020? I vote for Netflix. The online boom still has to prove it won't turn into a bust, like so many previous chess booms.
Both themes turned in strong performance reports for the month of December. Just this past week we saw Botez Sisters Sign With Esports Organization Team Envy (chess.com), in a unique show of support for the online boom. Reading like a press release, it started,
Dallas, Texas (December 21) – Meet the dynamic duo taking the online chess world by storm: 24-year-old Alexandra Botez and her 18-year-old sister, Andrea. The pair, known online as the Botez sisters, signed as content creators and streamers officially representing Texas-based esports organization Envy Gaming.
The article also mentioned,
Leading online chess platform Chess.com added 2.8 million new users in November 2020, an all-time monthly high, and unit sales of chess sets grew more than 87% in the U.S. in recent weeks according to market research firm NPD Group.
Those millions of new users might explain the following snippet.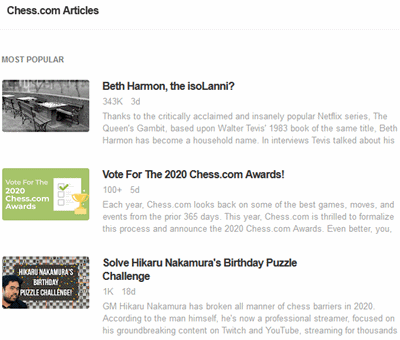 feedly.com/i/subscription/feed/http://www.chess.com/rss/articles
Six digits (343.000 views) for Beth Harmon, the isoLanni (chess.com) by Batgirl! The views for the other two Chess.com articles listed -- three digits and four digits -- are more normal statistics that I would be happy to get on any given day. We all knew that Batgirl is a great promoter for chess history -- see Best of Batgirl (October 2013) for plenty of examples -- but now she has superstar status.
P.S. For the other two Chess.com articles in the snippet, see:-
The 'Vote' article includes 'Story of the Year' as one of its nine categories. How will the Netflix and online boom stories rate?