For this month's 'Top eBay Chess Items by Price', Marquetry and Pyrography, I had a good runner-up on my short list, shown below. Titled 'THE QUEEN'S GAMBIT Walter Tevis CHESS 1st Edition First Printing NETFLIX Fiction', the book sold on eBay for US $1,124.96, 'Best offer accepted'.
If that seems rich, it probably is. Another copy ('1st Edition & Printing SIGNED by the Author') sold a day later for US $1,077.00 after 30 bids from eight bidders.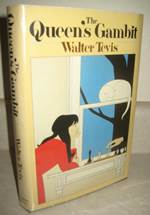 Bookfinder, Author is tevis : Title is gambit (bookfinder.com), currently lists at least six copies of the 1983 hardcover version, starting at $700. I say 'at least', because there are so many matches for the book using so many titles -- Ex: 'The Queen's Gambit Series 3 Books Collection Set by Walter Tevis (The Queen's Gambit, The Hustler & The Color of Money) NETFLIX' -- that it would take longer to collate the results than I want to spend on this post.
So much has been written lately about the Netflix series and so little about the original book, that it would be worth another post to say more about the book. In case I never get there, I should mention that the cover illustration is the same that I featured in a previous 'Top eBay Chess Items' post: The 'Seventh Season' Is Chess (April 2017).