Just like the previous post, January 1971 & 1996 'On the Cover' (January 2021), international chess was in the U.S. chess spotlight so many years ago.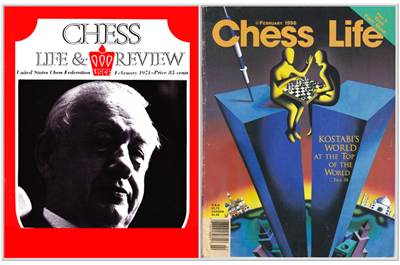 Left: ? (*)
Right: 'Kostabi's World at the Top of the World'
Chess Life & Review (50 Years Ago)
Folke Rogard, who will be 73 this July 6, has just retired as President of FIDE. See Fred Cramer's tribute to him on page 64. Photo by Friedel an Haack, Siegen.
Titled '"Folke Rogard of FIDE; The World Chess Federation Comes of Age" by Fred Cramer, Vice-President of FIDE, Zone V', that page 64 story [a chess player's favorite number] started,
Sunday night we relaxed in the comfortable leather of the small lobby, in that same corner where all those high transactions cleared, but now we were alone. Saturday night the Bundesprasident himself had honored some 500 of us at Siegerlandhalle; we heard a symphony orchestra, gave Keres the Hamilton-Russell cup, gorged ourselves on the world's best sausage and beer, and saw skyrockets splatter the West German sky, terminal tribute to three weeks of Olympiad and FIDE Congress. Today they all left, except us two.

This was the lobby of the Kaisergarten, yes, but it was also the Danielli in Venice, the Bristol in Lugano, and all those that went before. For it was his custom, at each FIDE Congress, to settle himself each evening in just that spot, with vacant chairs adjacent, immersed in a newspaper and, after a decent interval, with a scotch and soda at hand. And there, if your seniority, or your nerve, or the urgency of your problem were sufficient, you could approach Folke Rogard, President of FIDE, and he would listen. Listen he would, and ask questions, and talk, his voice almost inaudibly low. And you might get to understand something of FIDE and to know a bit about the man of FIDE, and to admire him.
It continued with a question, 'What got you into it? Why *you*?', for which the answer covered four broad topics:-
FIDE Before Rogard
Rogard Before FIDE
Solution of the Crisis [post-WWII cold war tensions]
A Friend of Ours
For more about Rogard, see Folke Rogard (1899–1973; wikipedia.org). For more about Fred Cramer, see his obituary Fred Cramer, Chess Official, 76 (nytimes.com). Dated April 1989, it started,
Fred Cramer, a former United States and international chess official who was Bobby Fischer's manager in a 1972 match with Boris Spassky of the Soviet Union, died of cancer Tuesday. He was 76 years old and lived in Mequon. Mr. Cramer was president of the United States Chess Federation from 1960 to 1963. He later served as vice president of the International Chess Federation.
Cramer mentioned that Rogard's favorite game was Gedeon Barcza vs Gosta Stoltz; Stockholm Interzonal 1952 (chessgames.com).
Chess Life (25 Years Ago)
Mark Kostabi, of Kostabi World, paid a visit to the Intel PCA World Championship and was properly inspired to create this month's cover. I say "properly inspired" because the PCA, through its diligent efforts and choice of venue, generated a tremendous amount of publicity for the royal game, during the 18-game match.
Inside the issue, CL coverage continued with the recently concluded 1995 Kasparov - Anand PCA Title Match. The 15 pages, headed 'Intel PCA World Championship, Part III', started with a smaller version of the cover illustration captioned, 'Mark Kostabi Grandmasters, 1995 64" x 48"', then explained,
Mark Kostabi is one of the world's most controversial artists because he broadcasts that he neither paints his own paintings nor conceives many of their ideas. Generally, they are designed by hired idea people, executed by painting assistants, titled by poets, approved by committees, and finally signed by...

[With this Issue we wrap up our game-by-game analysis by Larry Christiansen, Patrick Wolff, and John Fedorowicz. and immediately jump into a different perspective of the match Leonid Shamkovich and Vadim Kaminsky provide an overview of the openings used in Kasparov - Anand. And within this section, the art of Mark Kostabi is featured, along with some biographical tidbits. The analysis by Wolff in this issue and the last is from his new book. "Kasparov - Anand The Inside Story" published by H3 Publications. [GAPJ
The analysis included eight more Kostabi illustrations, each attached to a small piece of the Kostabi biography. A fuller biography, Mark Kostabi (wikipedia.org), starts,
Kostabi was born in Los Angeles on November 27, 1960, to Estonian immigrants Kaljo and Rita Kostabi. He was raised in Whittier, California and studied drawing and painting at California State University, Fullerton. In 1982 he moved to New York and by 1984 he became a prominent figure of the East Village art scene, winning the "Proliferation Prize" from the East Village Eye for being in more art exhibitions than any other New York artist.
For a different view of Kostabi, see Con Artist (2009; imdb.com). To find a copy of GM Wolff's book, see Author is wolff; Title is kasparov anand
***
(*) Re 'Left: ?' in the caption of the two covers, first seen in the 'January 1971 & 1996' post, all CL&R scans for 1971 have the bottom portion of the cover obscured in red. This will persist into 1972. Was explanatory text covered here or was only the mailing label hidden? I'll look at this some other time. For more about the CL++ scans, see US Chess CL Archive (November 2019).