In this long-running series on Top eBay Chess Items by Price (March 2010), it's been nine months since we last saw a painting. The most recent post was Georgian Player, Regency Set (May 2020).
The item pictured below was titled, 'A Game of Chess Original Oil Painting by Vernon Ward (British, 1905–1985)', subtitled, 'Superb Signed Original - Similar Listed to 3,750 GBP'. It sold for GBP 770.00 ('Approximately US $1,056.86', according to eBay) after 50 bids from 24 bidders.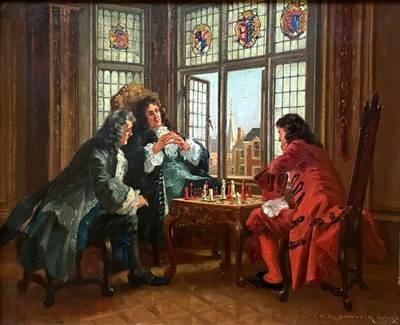 The description repeated the info from the title and added,
Signed lower right. • There are two paintings by this artist in the British National Art Collection. • Painting - 33cm x 43cm • Frame - 50cm x 57cm • Condition: In very fine condition. The canvas not lined, torn, patched or repaired. Clean, most attractive, well framed and ready to hang.
The section 'Artist Information' was almost a straight copy/paste from Vernon Ward (wikipedia.org). It started,
Vernon Ward was a 20th-century English painter and commercial artist noted for his works of flowers, birds and Edwardian subjects and who lived for most of his life in Hampstead in London. He was born in Hampstead, the son of an art dealer, educated at St Joseph's Roman Catholic school in Highgate and trained at the Slade School of Art in London under Henry Tonks, Wilson Steer and Sir Walter Russell.
The original Wikipedia article gave the artists's full name as 'Vernon Beauvoir Ward', while the painting was signed 'J.V. de Beauvoir Ward'. For a book about his art, see Vernon Ward: Child of the Edwardian era (amazon.com) by Josephine Walpole. The chess art is not typical of Ward's other work.