One of the design principles behind this blog is maximum one illustration per post. Sometimes I bend the rule, as in Queen's Gambit Mosaic - Chess Symbols (December 2020), but I usually respect it because it forces me to think about which image works best for a post.
This month I had two images for my Flickr series, both from sources that I've featured before. The first was from Gandalf's Gallery, last seen in Café Life in Montparnasse (March 2020). It was a good choice because it echoed another post, Hands and Heads Not from Wood (September 2012), where I copied an eBay description that said,
Antique and more than probably unique carved wood figures depicting Jewish "Chess Players" (Schachspieler) made after a work of the 19th century famous Jewish artist Isidor Kaufmann.
Now on Flickr was the original painting. I decided not to use it because it's a common chess image that is seen frequently in different settings. Instead I chose to feature the following image.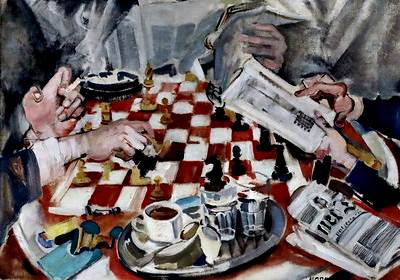 Modern Art : The Renewal of Forms © Flickr user jean louis mazieres under Creative Commons.
J-L. Mazieres was last seen in Flickr Series Hat Trick (July 2020). The description of his newest example of chess art says,
Max Oppenheimer 1885-1954; Le match d'échecs (The chess match) 1925-1930; Wien Musée Léopold
For more about the artist, see Max Oppenheimer (Carolus chess). As for the phrase that I've chosen as the title of the artwork, 'The Renewal of Forms', this repeats a technique seen in an earlier post inspired by Mazieres -- The Original Dutch Masters (June 2019) -- with two long passages, one in French ('Art Moderne : Le Renouvellement des Formes'), the other in English. Why was this passage chosen for the Oppenheimer painting? That is a mystery to be tackled another time.
Neither Gandalf's Gallery, nor J-L. Mazieres specializes in chess art. The artworks that appear under their Flickr names represent diverse subjects and themes. That is undoubtedly another aspect of the same mystery : why chess?