My first thought for a title was 'The Hand that Guides the Pieces', but I don't think the player(s) should be lumped together with the chess pieces. My second thought was 'The Hand that Guides the Players', but are the pieces really players? Then I thought of 'The Hand that Guides the Actors' or 'Action'. I'll leave the '[blank]' for now. Maybe I'll think of something more appropriate before I finish the post.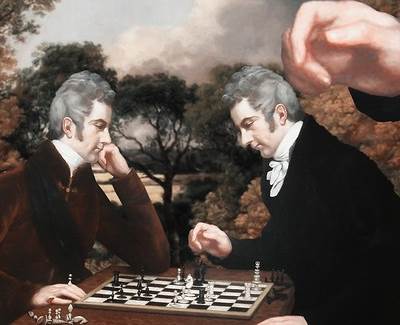 Blind moves © Flickr user lolo ramingo under Creative Commons.
Among the usual tags:-
composition, collage, concept, digital, chess, ...
...was 'Northcote'. What's that? The artist has two more works about chess:-
I 'faved' the second of those last month, when it lost in the final cut to the Flickr favorite featured in The Battle of Braine-l'Alleud (September 2021). Neither of those images used 'Northcote' as a tag.
The image I faved had Akira Tanaka (fr.wikipedia.org; b.1918 Osaka - d.1982 Paris, 'un artiste-peintre japonais') as a tag. Perhaps James Northcote (en.wikipedia.org; b.1746 - d.1831 London; 'a British painter') was another inspiration? Yes, that's it: see File: Chess Players by James Northcote (wikimedia.org).
Another lead for further caissart research are the 29 groups in which the image finds itself. That might serve as an inspiration for me at another time.