After nearly ten years of the series on Top eBay Chess Items by Price (March 2010), in the post Endorsements for Asuncion (January 2020), I was able to write,
I can't remember another article of clothing. The item pictured below, titled 'Magnus Carlsen's 2018 World Chess Championship Jacket', sold for US $4450 after 35 bids from 11 bidders.
It took less than two years for another post on clothing, pictured below and titled 'Exceptionally RARE Hermes Scarf - Echecs - 1939 - Charles Pittner - Vintage - WW2'. The scarf sold for GBP 575.00 ('Approximately US $760.15') on one bid equal to the starting price.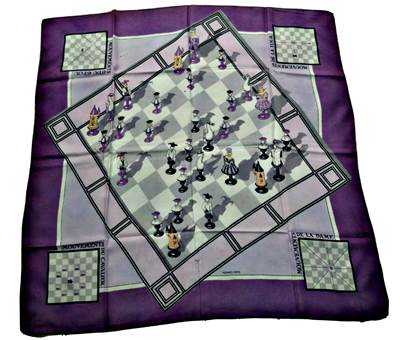 The four small chessboards near the corners of the scarf show the basic moves of four different pieces. The description started,
Amazing vintage and exceptionally rare Hermes Paris silk scarf carré 'Jeu d'Echecs' by Charles Pittner. Issued only once in 1939 and one of the earliest Hermes scarf designs. The first ever scarf being issued in 1937. A very hard to find and rare design. The scarf dates to WW2 & simply impossible to find. Very sought after by Hermès collectors and given an 'R' exceptionally rare rating, in the Hermes scarf guides, 'Carrés d'Art IV'.

'Jeu d'Echecs' or sometimes referred to as simply 'Echecs' or 'Le Leçon d'Echecs' literally translated as 'Game of Chess'. The scarf pictures a chess board on a mauve/lilac background. Just fabulous.
This was followed by some technical details.
Scarf name - None. One of several designs which do not show scarf name on the face of the design • Hermès Paris • Designer signature – None • Copyright Hermès - None as scarf dated 1939 & pre copyright • Vintage caretag - No longer attached • Size - approx 90 cm / 36 inches • 100% silk • Weight - approx 72 grams • Not a sale scarf • No box.
The description finished with some background information.
The scarf has been worn and washed but is in very good vintage condition overall for its 82 years of age. During WW2 silk was requisitioned for parachutes so scarves made during these years were often in alternative fabrics or whatever was available at the time. Silk, wool, cotton or a combination of the above. This scarf is in silk jersey. The silk is very fluid, soft & supple and drapes beautifully.
For more about the company making the scarves, see Hermès (wikipedia.org); 'Not to be confused with Hermes [...] a French luxury goods manufacturer established in 1837'.