My short list for this month's featured Flickr photo was as short as a short list can be without being empty : one photo. On top of that, the photo was by the same photographer behind a recent 'photo' -- in fact a collage -- that I featured in 'The Hand that Guides the [blank]' (October 2021). The newer photo was also interesting, but not as unusual as 'Hand that Guides'.
What to do? I went back to Chess in the Pink (April 2018), where I explored the '15 little colored boxes' at the top of Flickr search results. This time I looked at the four more complex little boxes to the right of the colored boxes. These are labeled 'Black and white', 'Shallow depth of field', 'Minimalist', and 'Patterns'.
The 'In the Pink' post mentioned a total 359,886 chess photos in the Flickr database. Three and a half years later there are now 572,616 photos. As you might expect with chess photos, of the four more complex options 'Black and white' returns the greatest number of photos, but I found 'Patterns' to be the most interesting. Here's an example.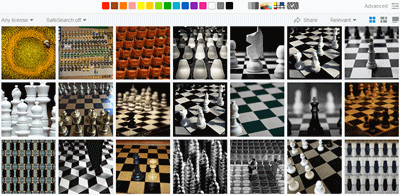 flickr.com/search/?text=chess&styles=pattern
The 'little boxes' are check boxes that can be combined to return, for example, pink patterned photos. 'Advanced' options add another set of choices, like 'Orientation': horizontal, vertical, etc. I usually use photos licensed under 'Creative commons' (CC). These number around one-sixth of the total photos. Now if I need a shallow, green, landscape (or panoramic), CC photo, I know how to get one. (NB: There are seven such photos, but none of them have anything to with chess. Go figure.)