In this blog's long-running series on The Sociology of Chess (November 2016), I often use leftover videos from the blog's monthly featured video, which was almost always published on Youtube during the previous month. Last month's A Man Who Would Be King (May 2022), is the most recent example.
On this month's short list was the video shown first in the screen capture below. It's good enough to promote on this blog, but I had the feeling that I'd seen it before. Sure enough, it's the video shown second in the screen capture, and was published almost four years ago.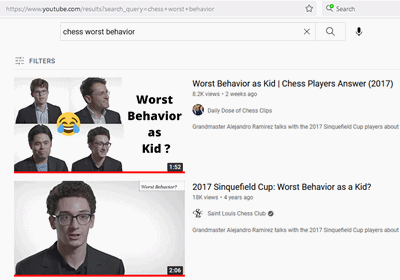 The person(s) responsible for the first video removed all traces of its source, thereby giving the impression that their video was original work. I've noted the clip's Youtube channel and will avoid using any other videos in future posts.