The last time I featured a watch on Top eBay Chess Items by Price (March 2010) was Christmas Watch (December 2016). We are well overdue for another watch.
The item pictured below was titled '18k Gold Napoleon and Cornwallis - Chess Fusee Verge Pair Case Pocket Watch 1802'. It was listed 'Best offer accepted' for GBP 3,395.00 ($4,075.53 according to eBay). Based on other available info, it sold for somewhere between $3000 and $4000.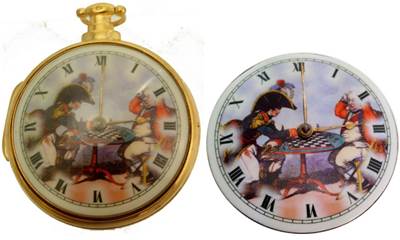 Left: Watch • Right: Dial
The description was long and technical, so I reduced it to:-
A mint and very rare condition solid 18k gold Georgian era verge chain driven fusee pair-case pocket watch made by Goldsmiths of Liverpool fully serviced, overhauled and keeping good verge time. The watch comes from a private collection where it has clearly been looked after. Watches from this period with the fire-gilding to the watch movement and cases in such bright condition are very uncommon.

This is a beautifully made English key-wound man's verge pocket watch, dating from ca. 1802. The watch is in full working order and comes complete with a key for winding and presentation box.

The dial with a picture of Emperor Napoleon playing chess against Lord Cornwallis, clearly out manoeuvring him and at the time still the dominant force in Europe. Bonaparte (left) and Lord Cornwallis play chess. Bonaparte, not caricatured, alert and military, wearing his large plumed cocked hat, leans forward, pointing to his move; his left arm lies on the table and in his left hand is his sheathed sabre.

This political cartoon was published by S. W. Forbes and a print made by Charles Williams in 1802 in London.
If, like me, the term 'verge watch' isn't part of your vocabulary, see Verge escapement (wikipedia.org). The story about Napoleon vs. Cornwallis is also worth knowing, but I'll leave that to people who are really interested.