The yellow plaque near the bottom of this month's Flickr photo says, 'The White Rhino Was Thinking Ahead With Dogman's Encouragement'. The rest is unreadable even in the largest Flickr version of the photo. What more can we learn about it?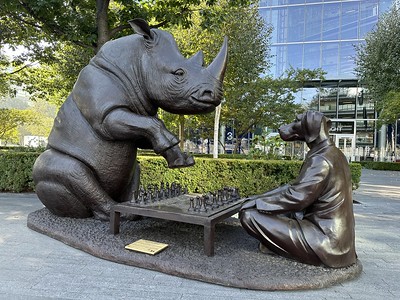 Rhino playing chess © Flickr user Matt Brown under Creative Commons.

The photo had no description, but the tags were helpful:-
london bridge city
gillie and marc
From this we can locate a few pages explaining the exhibition. The first page, Astounding Animal Statues By Gillie And Marc Near London Bridge (londonist.com) uses the same photo as seen on Flickr. It explains,
Rarely a month goes by without a new sculpture or three from Gillie and Marc. The prolific duo have, just in the past couple of years, given us the chimps of London Bridge, the Wild Table of Love in Paternoster Square, and a pride of lions near Waterloo (and more besides). Now they're back with the most eye-opening outdoor show yet. [...] Track down the rhino playing chess, the giraffe slurping noodles, or a gang of African wild animals on a bicycle made for 10. Familiar Gillie and Marc characters Rabbitwoman and Dogman also make regular appearances.
The second page, A Wild Life for Wildlife in London (gillieandmarc.art), tells us that the exhibition runs '19 September 2023 - 18 September 2024'. The description of the sculpture, with a photo taken from a different angle, starts,
Are you ready to join the game? • The air is buzzing with concentration. Dogman and the white rhino are head to head in a very close game of chess.
This blog has long been interested in chess sculptures / statues. For the previous post in the series, see Fischer Busted (November 2022). Use the search box for older posts.