We're nearing the end of this blog's 'Fischer Friday' series, last seen in Fashionable Fischer (November 2022). This current post has nothing to do with Fischer's 1972 or 1992 matches, and takes its title from an old post Korchnoi Busted (May 2012).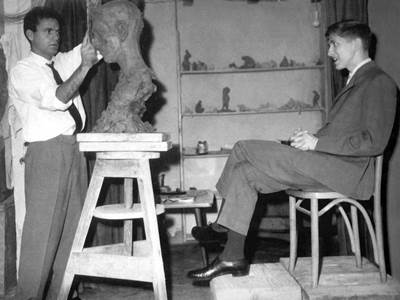 I found the photo on Bobby Fischer by florijanmedjugorje (deviantart.com), and compressed its description to:-
Bobby Fischer visited Yugoslavia in 1961 and posed for Mostar based sculptor Florijan Mickovic in Rudolf Matutinovic atelier in Zagreb, Croatia. Fischer received it in New York from Svetozar Gligoric, Serbian chess grandmaster. Published in year 2005 in Florijan Mickovic monography. • Photographer: Pavao Cajzek
Both sculptors have pages on Wikipedia:-
Florijan Mickovic (wikipedia.org) • 'Mickovic (1935-2021) was a Bosnian Croat sculptor living and working in Mostar and Medugorje.'
Rudolf Matutinovic (ditto) • 'Matutinovic (1927-2014) was a Croatian sculptor.'
On a normal day, I wouldn't post a single, random photo found on the web, but there's never anything normal about Fischer. That same day I was re-reading the article 'A Half Dozen Unsolved Bobby Fischer Mysteries' by IM John Donaldson. The article is related to a recent post 2022 CJA Awards - Part 3 (October 2022):-
Honorable Mention; Best Story of the Year; 'The Fischer Project'; John Donaldson (author), Ian Spanier (photographer); Chess Life, July 2021
'Unsolved Bobby Fischer Mysteries' was a coda to the 'The Fischer Project'. The last of the six mysteries was:-
6. MISSING SCULPTURE OF BOBBY FISCHER • Bobby posed for the Yugoslav sculptor Florijan Mickovic not long after finishing second at Bled 1961. Two years later Svetozar Gligoric accompanied the finished bust to New York. When Fischer moved to Los Angeles in 1968, he brought it with him. Sometime later the sculpture was put into the ill-fated storage locker.

Fortunately, there was (at least temporarily) a happy ending for this Fischer treasure. When it was put up for auction in early 1999 Bob Ellsworth was able buy it back. Soon after Harry Sneider's son Rob took it to Budapest, where it was reunited with Bobby. What happened after this is unclear as Fischer did not take it with him to Iceland. It's possible it ended up with Pal Benko or Janos Rigo and presently resides with one of their families.
Having a photo of the bust helps to identify it. The photo is much larger on the Deviantart page.