There are at least two things I've learned in the series on Top eBay Chess Items by Price (March 2010). The first, as stated in last month's Listen to a Painting, is:-
You might expect that there would be a big choice of interesting items from the Christmas / Hanukkah period, and you would be right.
The second is:-
You might expect that there would be a small choice of interesting items after the holiday period, and you also would be right.
Fortunately, it only takes one auction to make a post. The item pictured below was titled 'Zev Daniel Harris painting abstract expressionism 1960's Italy chess modernist'. The winning bid was US $791.99 after 15 bids from eight bidders.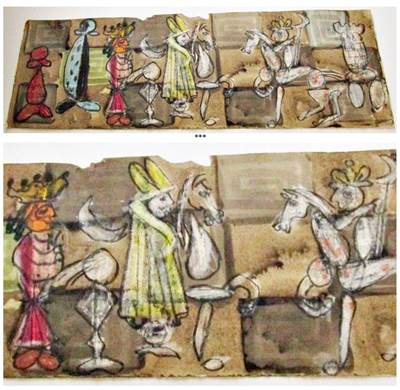 Top: Complete watercolor
Bottom: Central portion
The work was part of the Samuel Collection ('based in United States').
Moving and liquidation sale has now started. Thousands of works of art, jewelry, artifacts etc to be sold off with no reserve and tiny opening bid. Some items I paid thousands for but will still start bidding at 12 dollars for assured immediate sale. No returns offered. All liquidation sales final.
The rest of the description was a mixture of auction terms and the appearance of the item.
Overview: Signed as shown. Original watercolor on thick paper. With the right frame this will look great. You set the price. No reserve! I'm starting bids at 12 dollars. Paid a fortune. Famous artist.

Condition: Just needs a nice frame. Artist cut out parts of paper. Sheet is irregular in shape. A few razor cuts or slices. A few wrinkles on edges. Few white spots of wear. Mild scuffs. Signed front and back. Painted in Italy 1960's.

Measurements: Sheet size 13 by 40 inches. Unframed.
As for 'famous artist', the page Zev Daniel Harris (askart.com) informs,
Zev Daniel Harris (1914 - 1987) was active/lived in New York, California, Italy, Hungary. Zev Harris is known for abstraction, fantasy architect, sculptor.
The artist executed other works with a chess theme. Chess is a ready subject because it is, after all, already an abstraction.