For today's post I had planned to follow up on last week's 'Game Changer' Excerpts. While writing that post I noticed a section in the book on engine evaluations of '0.00'. I think it was at the end of chapter 2, titled 'ZeroZeroZero'. I documented the entire excerpt just a few days ago by saying,
More pages are available from Google Books: Game Changer: AlphaZero's Groundbreaking Chess Strategies and the Promise of AI. The section 'Preview this book' is uninterrupted from the cover page through most of Ch.4.
Now the preview has disappeared and the page is marked 'No preview'. I've been looking into the topic of engine evaluations '0.00' for some time, but I'm not prepared to write a full post on it. I had hoped to use the half-dozen (or so) 'Game Changer' pages to launch a discussion, but that will have to wait for another day. What to do?
Since writing the 'Excerpts' post I've also noticed that the book is marked 'Best Seller' by Amazon. In fact, it's no.1, as the following screen capture shows.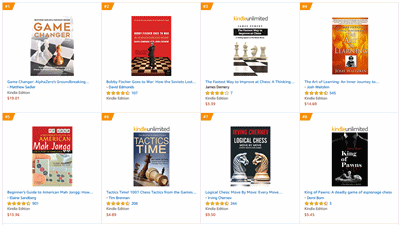 Amazon Best Sellers: Best Chess
(amazon.com)
No.2 on the list, which I suppose is the previous no.1, is 'Bobby Fischer Goes to War: How the Soviets Lost the Most Extraordinary Chess Match of All Time' by David Edmonds and John Eidinow. For readable titles of the other books, follow the Amazon link.
All books on the Amazon list are marked 'Kindle Edition'. Does no one buy physical copies of books any more? Whatever the case, congratulations to all involved in the AlphaZero book on creating an instant hit!