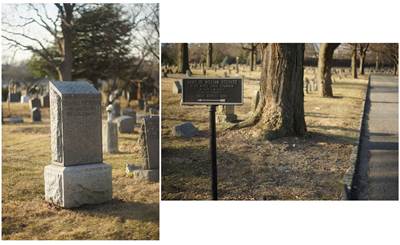 Left photo: Steinitz Grave 4 © Flickr user 4paul! under Creative Commons.
The gravestone in the left photo has a chessboard on its top and says,
Hier ruht in Frieden ['Here rests in peace']
William Steinitz
Geb. 14 Mai 1837 ['geboren']
Gest. 12 Aug 1900 ['gestorben']
The sign in the right photo says,
Grave of William Steinitz
First World Chess Champion
In memory of my ancestor
By Kurt Landsberger
Grave number 5893
The tags in the photos place the cemetary at Brooklyn, New York. The page William Steinitz, 1836-1900 (findagrave.com) identifies the place of burial as 'The Evergreens Cemetery'. Note the difference between the year of birth on the gravestone and the year on the referenced page. Wikipedia's page, Wilhelm Steinitz, says, 17 May 1836, giving a different day and year than is written on the gravestone.