In this ongoing series on The Sociology of Chess (November 2016), one of the themes I haven't explored is chess as an accessory to legend. Take the following drawing, for example.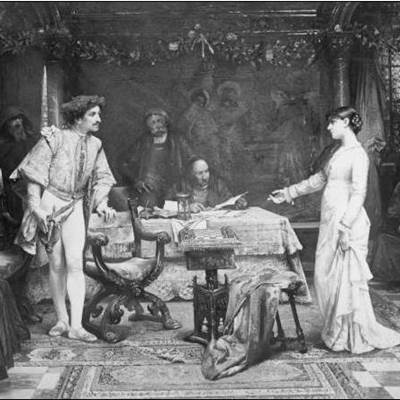 If the drawing looks familiar, it might be because I've also used it on my page Chess Through the Artist's Eye. In fact, the image shown above is cropped to show only the principle characters, while the 'Artist's Eye' page includes the many onlookers to the left and right of the scene. That same page informs,
Brozik, Václav (Czech, 1851–1901) • 'Dagmar and Strange Ebbesen at the Chess Table' (1880?), Illustreret Tidende
The Wikipedia page, Vaclav Brozík, says,
Václav Brožík (French: Vaclav de Brozik; 6 March 1851, Tremošná - 15 April 1901 Paris) was a Czech painter who worked in the academic style.
One of the subjects of the drawing is described in another Wikipedia page, Dagmar of Bohemia:-
Dagmar of Bohemia (also known as Margaret of Bohemia; c. 1186 – 24 May 1212 in Ribe) was queen consort of Denmark as the first spouse of King Valdemar II of Denmark. She was the daughter of King Premysl I Ottokar of Bohemia and his first wife, Adelheid of Meissen.
That's all very nice, but in the words of the 11th World Champion, 'What's that got to do with chess?' The pieces of the story come together in a series of poems, Full text of "The Mermaid's Prophecy and Other Songs Relating to Queen Dagmar" (archive.org; Project Gutenberg eBook). The poems are titled...
I. King Valdemar's Wooing
II. Queen Dagmar's Arrival in Denmark
III. The Mermaid's Prophecy
...where the 'Wooing' starts in the first verses,
Valdemar King and Sir Strange bold
At table sat one day,
So many a word 'twixt them there passed
In amicable way.

"Hear Strange, hear! thou for a time
Thy native land must leave;
Thou shalt away to Bohemia far
My young bride to receive."
...After reaching Bohemia, Strange Ebbesen announces the reason for his visit and is challenged to a game...
"Hail to thee, King of Bohemian Land,
Thou sittest a prince in state;
To you sends Valdemar, Denmark's King,
With your daughter he would mate."

[...]

Then they bore in the playing board,
Was wroughten all of gold;
Sir Strange should with the princess play,
And private converse hold.

The third game they together played
Upon that red gold board,
Sir Strange won the noble maid
For Valdemar his lord.
...In fact, there is nothing here to confirm that the game is chess. That must be artist Brozík's imagination, but why not?