On hearing the news of Pal Benko's death, my first reaction was to create a small tribute like the recent Four Faces of Tal. The only problem was -- I didn't have four photos to use. Fortunately, I had one very good photo saved in 2010.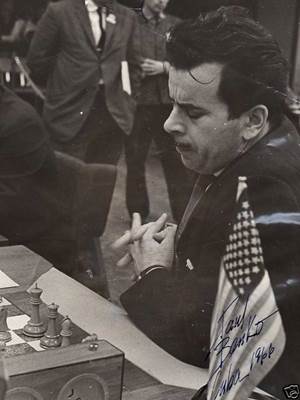 The eBay description said,
Vintage 8 x 10, rare photo of USA chess champion Paul Benko, hand signed photo, in the XVII world-wide chess olimpiad in "La Havana Cuba" October 1966, Hotel Havana Libre Cuba.

In mint condition. this photo and others in this auction come from the state of Rodolfo Santovenia, a Cuban journalist and chess lover, from the "Bohemia" magazine in the 40s and 50s and 60s. This photos have been in storage about 50 years, but all are in mint condition.
Why 'Paul' Benko? Because that's how he signed his name on the American flag, followed by 'Cuba 1966'. For tributes to Benko from chess news sites, both of which hit my news reader at about the same time, see:-
For tributes from two chess organizations that played an important role in his career, see:-
I was disappointed with the headline in the only mainstream media report that crossed my radar:-
Stepping aside for Fischer in 1970 was far from Benko's major achievement. I'm sure other mainstream media reports will follow, hopefully with a more objective focus.
As for this blog, Benko has probably appeared in more 'On the Cover' posts than any other player. The most recent was April 1969 'On the Cover' (April 2019). For another angle, see GM Benko's Last Column (December 2013). GM Benko was a giant in American chess.