In last week's post on the world's top-2 engine tournaments, TCEC S16 L2; CCC9/-10 Endless Bonuses, one event was well underway and the other was marking time. Which was which?
TCEC: 'League 2' is underway and has completed the first of the two round-robins. • CCC: The current tournament, the 'CCC Bonus: CPU Showdown' with five engines, is almost finished.
After a week, the comparison 'well underway' vs. 'marking time' still holds true.
TCEC: 'League 2' finished and 'League 1' started. The following chart shows the top half of the final 'League 2' crosstable.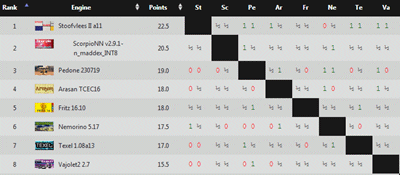 CCC: A month ago I wrapped up reporting on CCC9 in TCEC S16 Starts; CCC9 Finishes (July 2019). In that post I noted,
It's surprising to see that Leela did not qualify for the [CCC9] final match. I haven't found any Chess.com reports on the series of events, but I'll be patient before looking elsewhere for the reason(s)
Last week Chess.com issued a final report in Stockfish Wins Computer Chess Championship As Neural Networks Play Catch-Up. It summarized CCC9 with:-
Stockfish won CCC9 over Leelenstein, a neural-network chess engine based on Lc0, the leading machine-learning chess project. The champion engine triumphed in the blitz time control of CCC9, beating 17 other engines in a "gauntlet" format.
There was no mention of Leela, other than passing references like 'based on Lc0' in that paragraph. The report gave further details about CCC10:-
Stockfish now looks to defend its title in 'CCC10: Double Digits', an 18-engine tournament played in four rounds. CCC10 is now in progress. The first three rounds of CCC10 will all be played at a time control of 10 minutes plus a three-second increment, on the border between blitz and rapid. The two-engine finals of CCC10 will be 400 games split up among three blitz and rapid time controls to determine the champion.
The declaration that 'CCC10 is now in progress' may have been premature. A few days later, in GPU and CCC10 Status Update, we learned,
I've just been told not to expect the GPU machine to be ready until early next week. That means CCC10 is on hold. Super disappointing, I know, but there's nothing to be done.
That explains the steady stream of bonus events running only CPU engines. Since the GPU engines are the cutting edge of computer chess technology, occasional glitches are to be expected. The filler tournament running now is 'CCC Bonus: Waiting On The GPU'.
[For further information from the various stakeholders in the engine-to-engine events, see the tab 'TCEC/CCC Links' at the top of this page. • NB: Leela = LC0 = LCzero]