I closed last month's 'On the Cover', October 1969 'On the Cover', saying,
And so ended one of the most important chapters in American chess journalism. Chess Review had been published continually since January 1933. And so ends this series on American chess in the 1960s.
In November 1969, Chess Life and Chess Review were merged for the first issue of Chess Life & Review. Let's continue the 'On the Cover' series with CL&R from 50 years ago, together with CL from 25 years ago.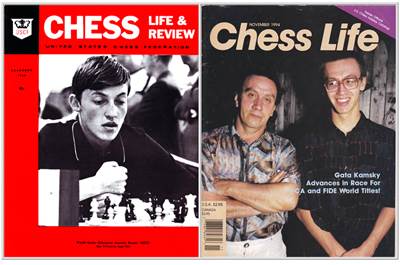 Left: 'World Junior Champion Anatoly Karpov (USSR)'
Right: 'Gata Kamsky Advances in Race for PCA and FIDE World Titles!'
Chess Life & Review (50 Years Ago)
The six-page tournament report had been carried in the October issue of Chess Review, the last issue of its publication, under the title 'Tenth Junior World Championship; Stockholm, August 10-29, 1969; Related by Dr. Peter Trifunovich'. It started,
The tenth world championship for those under twenty was contested in Stockholm. Thirty-eight participated, two from the host country, one each from others, the contender from the Dominican Republic not appearing. It is expected that more than forty will participate in 1971.
Karpov finished 1st, with A.Adorjan & A.Urzica 2nd-3rd. The American representative, Kenneth Rogoff, failed to qualify for the championship section, finishing 3rd in his preliminary section behind Ulf Andersson of Sweden and Aurel Urzica of Romania.
Chess Life (25 Years Ago)
The photo shows Gata Kamsky on the right and his father Rustam Kamsky on the left. CL's 'On the Cover' introduction said,
Once upon a time, when one mentioned the "Chess Genius from Brooklyn," there could be but one interpretation. Today, we must preface such remarks carefully.

As the Professional Chess Association (PCA) and FIDE, continue to bicker, or not, one person may unify both World Championship claims, by winning both titles. Gata Kamsky will play former PCA Challenger Nigel Short in Linares, and then meet Valery Salov in January, in the next round of FIDE Challenger matches.

Just as the "good cop, bad cop" routine is undoubtedly disorienting to a suspect, "good press, bad press" concerning the Kamskys, must be equally confusing to the armchair aficionado. Lev Alburt and Larry Parr attempt to clear away some of the confusion, in our feature story.
The feature story was under the header 'The Human Side of Chess' and was titled 'Making it in America; A Conversation with Gata Kamsky'. It started,
At age 20, Grandmaster Gata Kamsky has become the first serious American contender for the world chess crown since Bobby Fischer a quarter century ago. He has just defeated India's Viswanathan Anand, 6-4, on the latter's home court in a place called Singhi Natar [sic; 'Sanghi Nagar'], and will probably be rated number three in the world in the next PCA rankings. He would also enjoy a similar distinction on the FIDE scale if that organization rated such PCA events as the young American's recent, devastating crush of Vladimir Kramnik in New York.
I expect we'll be seeing the evolving story in future editions of 'On the Cover'. For a sneak preview, see my page World Chess Championship: FIDE/PCA Chronology.