We don't see many chess sets here on Top eBay Chess Items by Price (March 2010). The previous set appears to have been Chess with Rare Woods (February 2017), and that wasn't just a set, it was a table, which I introduced with 'We don't see many chess tables here on...'
I never have a problem if I want to feature a chess set. Every time I start to compose an eBay post, there are dozens of expensive sets to choose from. That's why I don't often choose one: they would inundate everything else. The set shown below was titled 'Vasarely, Victor (1906-1997). Chess Color Serigraph in Plexiglas Hand Signed', and sold for US $1520 after a single bid.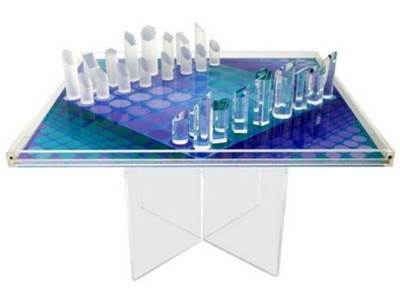 The description said,
Medium: Serigraph & Silkscreen • Originality: Limited Edition • Features: Framed, Signed • Style: Abstract / optical • Unused / complete, with custom clear plexiglass dust cover.
The item came with a 'CERTIFICAT' that said,
We hereby certify that THE VASARELY CHESS SET is issued in an edition limited world-wide to only 1,500 (one thousand five hundred) copies. Each VASARELY CHESS SET is an individually numbered original work, with the chessboard personally signed by Victor Vasarely in his own hand.
The photo of the item also had four other photos showing how the board and set were designed. It looks like some sort of manual raytracing executed at a time when computers and software were either big budget items or even non-existent.
Why did I decide to feature this set for this post? Vasarely produced other chess related works. Cataloging them would make a good rainy day project.