I ended last week's post FIDE's Media and Fair Play Commissions 2019, saying, 'I'll leave the Ethics Commission for another post.' This is the fifth (and last) commission in the series that started with Spectating the 90th FIDE Congress? (February 2020). It's by far the best organized and most informative of those five commissions.
In last year's post, FIDE's Ethics Commission 2018 (January 2019), I displayed a portion of an online table showing the commission's decisions. Below is a similar snapshot from the current page. It starts with the last two decisions in 2018, both related to the 2018 election and both of which were eventually marked 'Complaint thereafter withdrawn'. The columns in the table were explained in the 2018 post.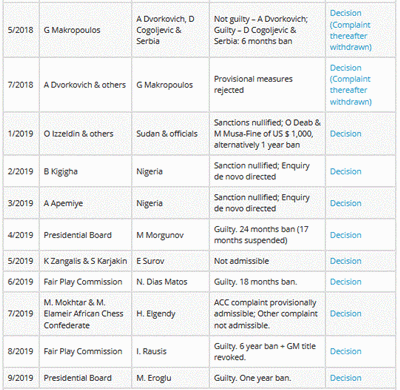 ethics.fide.com/decisions
Following the links provided in the 'Spectating?' post, we find the commission's most recent report in Annex 5.7 of the General Assembly announcement. Unlike many other annexes that I've reviewed, it's actually signed and dated. It starts,
Report to FIDE Executive Board
Abu Dhabi, February 2020
On top of various administrative details, the report classifies cases according to their disposition:-
Complaints ruled non-admissible prior to registration
Cases withdrawn or discontinued
Decided cases
Pending cases
Court of Arbitration for Sport (CAS)
'Decided cases' are the same as those shown in the table above. The same web site that documents the decisions offers procedural rules and guidelines for deciding a case. In the six years that I've been following the Ethics Commission, it has handled some of the most controversial issues in FIDE. What will 2020 deliver?