Two weeks ago, in TCEC S17 Paused; CCC13 Underway, I posted a progress report on the two world class engine vs. engine tournaments that just go on and on and on... Here's a summary of that report:-
TCEC: The site is now running a 100-game match between Stockfish and LCZeroCPU called 'S17 - This is not a SuFi Bonus', with only 1-2 games scheduled per day. • CCC: The last of the three CCC13 five-engine 'pools' (aka 'pentagonals'), called 'Pool B', is currently running.
A few days later I added a correction for the TCEC portion -- 'the site issued an announcement the next day: TCEC Season 17 – Premier Division is now live! (chessdom.com)' -- with the news that 'the Premier Division kicked off'. The announcement continued,
This year the Premier Division has increased the number of participants from 8 to 10. [...] First, the audience will see all games that require CPU only. Then, the bulk of games that require GPU will be played.
Where is the Premier Division (aka DivP) now?
TCEC: The six-engine 'CPU only' section finished with Stockfish leading +6-0=14, well ahead of the other five CPU engines, only one of which could barely manage a plus score. The four GPU engines have entered the division, which will run for another week. The rules specify, 'The top 2 engines promote to the Superfinal which will be the traditional 100 games head to head clash.'
CCC: The third Pentagonal section, 'Pool B' was won by Leelenstein, well ahead of Houdini. Those two engines joined the four that had qualified from the first two pools. Before the next phase, the Heptagonal, could begin, the third-placed engines from each of the three pools ('C-A-B') met in a Triangle to determine a seventh Heptagonal competitor. Komodo, having the only plus score, won.
A few weeks ago, in CCC13 Shapes, I showed the flow diagram for the Pentagonal and Triangle sections, the first half of the overall tournament. The second half, starting with the Heptagonal, is shown below.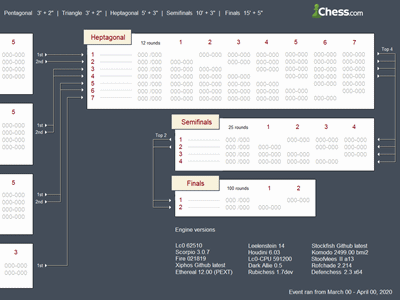 Stockfish is currently leading the Heptagonal, slightly ahead of Lc0 and Leelenstein. Each of the three engines won its respective qualifying Pentagonal pool. The fourth spot in the Semifinals is still up for grabs. The tournament should finish during the next 24 hours.
[For further information from the various stakeholders in the engine-to-engine events, see the tab 'TCEC/CCC Links' at the top of this page. • NB: Leela = LC0 = LCzero]