Two adversaries on opposite sides of a controversial issue is a common theme in chess art. This cartoon was in two Flickr groups: Global Climate Change and Saving Earth ('group/s0s').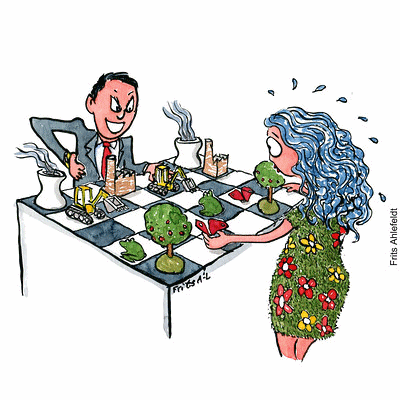 Di00015 business-vs-nature chess playing no game illustration by frits ahlefeldt © Flickr user Frits Ahlefeldt under Creative Commons.
The description said,
Businessman playing chess with Mother Nature.
While the image in this post is certainly worth featuring, the short list for my Flickr posts seems to be shrinking gradually. Is it because artists and photographers are more concerned than ever about protecting their work -or- because Creative Commons licenses aren't well known? Earlier this week, in a post titled FIDE Newsletters++ on my World Championship blog, I was disappointed to see that the photos in FIDE's albums on Flickr were marked '© All rights reserved'. Releasing some of FIDE's wonderful photos for limited, prescribed use would help everyone who is promoting chess.
Another issue raised by the image above is how to locate other chess images that depict the generic topic 'opposite sides of a controversial issue'. I can't think of a search query to do this. Maybe something will pop into by subconscious mind later.