The first Sunday of the month means another post in the long-running series on Top eBay Chess Items by Price (March 2010). Last month, in Pinheads Play Chess, I wrote,
I reckoned it would be a dry month, what with the coronavirus and all. In fact, there appeared to be more activity on eBay than I usually see in a month. Are people taking advantage of the stay-at-home orders to buy stuff online?
This month there was less than the usual activity on eBay. Since many of the stay-at-home orders went into effect mid-March, maybe my reckoning was right after all.
The item pictured below was titled 'Antique English Oil Portrait Painting Chess Player Georgian Man Regency 19th c.' It sold for somewhat under US $2500, 'Best offer accepted'.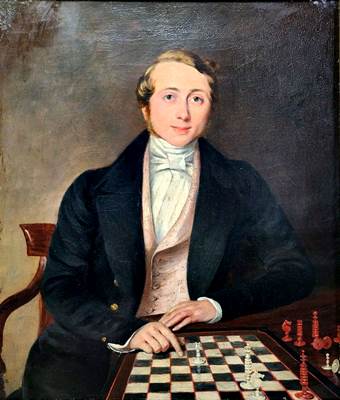 The phrase in the title, 'Georgian Man Regency', wasn't explained in the description, which said,
A stunning English Regency era oil portrait of a gentleman playing chess, circa 1830. Unsigned but shows the work of a very skilled portrait painter. Canvas stamped Roberson Miller; National Portrait Gallery illustrates the stamp on the canvas - it was used between 1828-1839.

Condition is good and the original canvas has not been relined. Some small areas of paint loss and in painting as pictured. Craquelure and single patch present to verso. 22.75" x 19.5" framed
The word 'Regency' undoubtedly refers to the set depicted in the painting ; for more, see Regency Chess Sets (chess-museum.com). As for 'Georgian Man', Wikipedia's page Georgian era starts,
The Georgian era is a period in British history from 1714 to c.1830–37, named after the Hanoverian kings George I, George II, George III and George IV.
A phrase from the description, 'Canvas stamped Roberson Miller', leads to Roberson and Miller framed paintings (rootschat.com). That makes a total of three small lessons in history, of which the most interesting for chess history is Welcome to the Chess Museum, a site apparently affiliated with Chess Collectors International (CCI).
The four figure price for a portrait by an unsigned, unknown artist reminds me of the questions I asked in The Value of Art (February 2016). Perhaps it's time to spend some effort in answering those questions.