This month's post in the ongoing series on Top eBay Chess Items by Price (March 2010), reminds me of last month's post 1982 Tbilisi Women's Interzonal (June 2020). It features a second-rate presentation of a first-rate souvenir from an historically important chess event.
The title of the auction for the item pictured below was '12 Postcards Signed by Participants - Linares Chess Tournament - Karpov's collection'. It sold for $400.00, 'Buy It Now'.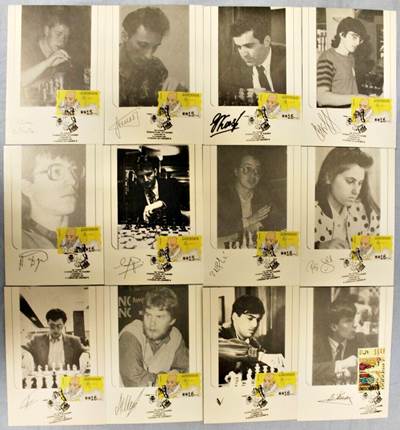 The item's description listed the 12 participants, thereby easing the task of identifying the photos.
1st row: Adams, Topalov, Kasparov, Kramnik
2nd row: Dreev, Piket, Nikolic, J.Polgar
3rd row: Gelfand, Shirov, Anand, Ivanchuk
The description continued with an account of the item's origin.
From the personal collection of A. Karpov! Karpov wasn't taking part in this tournament. He had been invited and planned to play, but couldn't. However the print run of the postcards dedicated to this tournament was already published. So the publisher just glued the photo of the newcomer on Karpov's photo.
The rest of the description, which continued 'The 14th Annual Linares Super Tournament held in 1997 was a category XVIII event' and which included a crosstable, was taken from Linares 1997 (chessgames.com). For more about the series of events, see Linares International Chess Tournament (wikipedia.org), 'sometimes described as the Wimbledon of chess'.