In last month's edition of the ongoing series on U.S. chess 50 & 25 years ago, June 1970 & 1995 'On the Cover', I noted,
You might never guess that the first nine pages of the June 1970 [CL&R] issue covered 'The Match of the Century', which in 1970 meant the USSR versus the 'Rest of the World'.
In this month's edition, the match finally made the cover of CL&R. It also filled another nine pages of the magazine.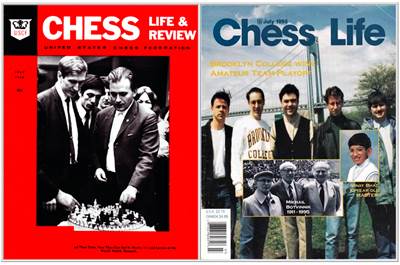 Left: '[Something, something] their cake, now they can eat it. Fischer (l.) and Larsen at the World Match Banquet'
Right: 'Brooklyn College Wins Amateur Team Playoff; Mikhail Botvinnik 1911-1995; Vinay Bhat: 10 Year Old Master!'
Chess Life & Review (50 Years Ago)
The first article was more about Bobby Fischer than it was about the match. CL&R was, after all, an American magazine. The following quote is from 'Veni, Vidi, Vici' by Dr. Petar Trifunovic, subtitled 'After the Great Match'.
It is no exaggeration to say that Yugoslavia has become for Fischer a veritable Chess Eldorado. Everyone knows of the great successes which he had attained previously in this country. But now, after a prolonged absence from this country and from the chess arena in general, he has maintained his great tradition and, indeed, greatly enlarged it. His performance amidst a world-wide representation was anticipated with curiosity, impatience and anxiety by his numerous friends and fans here. [...]

"The Great Match" in Belgrade ended. Would Fischer stay in Yugoslavia and take part in the "Second Tournament of Peace" in Rovinj and Zagreb, or would he return home? The Yugoslav Chess Organization tried to retain him and to get him to consent to play in the tournament. But Fischer declined repeatedly to give a definitive assent.

Meanwhile, there arose the possibility of a great "blitz tournament" (in rapid chess) at Herceg Novi, a small but very attractive place for tourists on the Adriatic coast. Unexpectedly, Fischer agreed to play in this tournament. "Unexpectedly," that is, for all here. For it is understood that Fischer very seldom plays "blitz chess" and cultivates no sympathy for this sort of play. The Soviet "blitz" specialists, Grandmasters Tal, Korchnoi, Bronstein and Petrosian, and the Yugoslav "blitz" matador, Grandmaster Matulovic, were very glad to have "Bobby" participate. For all expected that Bobby would absorb some good lessons and even nice cudgelings in "blitz chess."
Spoiler alert: Fischer won the Herceg Novi blitz tournament, finishing four and a half points ahead of second place Tal. He also played in Rovinj / Zagreb, winning by two points
Chess Life (25 Years Ago)
There is more than one way to reach Brooklyn, and trees do grow there. It is also the home of the appropriately named Brooklyn College, which has won the U.S. Amateur Team Playoff. Carlos H. Sevillano (left) deserves the credit for engineering Brooklyn College's successful program. Standing next to him are the members of the winning team: Joseph A. Valentin, Gennady Sagalchik, Alexander Kalikshteyn, and Yury Lapshun (photo courtesy of Brooklyn College).

While these young men prepare for their future, we pause to remember Mikhail Botvinnik, who passed away in Moscow on May 5th, at the age of 83. He is flanked by Samuel Reshevsky and Reuben Fine in this photograph, taken in 1983 by Nigel Eddis. As a three-time FIDE World Champion, his teachings and study methods have influenced generations of chessplayers, including the current FIDE World Champion Anatoly Karpov, and the current PCA World Champion Garry Kasparov.

And that influence may even extend to America's newest ten-year-old master, Vinay Bhat of San Jose, California, who is tutored by Saveley Polovets (His picture is courtesy of the Bhat family). Vinay is now the youngest person in the United States ever to achieve a master rating, beating by 33 days the record set by Jordy Mont-Reynaud last year.
Of the four players on the Brooklyn College team, Sagalchik became a GM and Lapshun an IM. Vinay Bhat also became a GM.
I don't recall any articles commemorating the 25th anniversary of Botvinnik's death. Although he was one of the strongest players of all time -- probably in the top-10 -- he was never well-liked by the general chess public.