What is it about chess that attracts so many artists? Maybe it's just easier to paint someone who sits patiently for hours.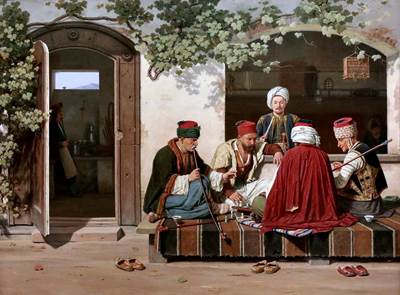 Martinus Rorbye (1803-1848, Danish) A party of chess... © Flickr user jean louis mazieres under Creative Commons.
The rest of the description said,
A party of chess players outside a Turkish coffeehouse and barbershop. Copenhagen Statens Museum for Kunst.
This is the third time we've seen J-L. Mazieres in this blog's Flickr series. The first two were Chess Set Circa 1540 (August 2014) and The Original Dutch Masters (June 2019).
When I lived in Copenhagen, I visited the Statens Museum for Kunst on several occasions. Tak skal du have!