A couple of weeks ago, in the post CCC PGN II (August 2020), I tried to make sense of the large collection of engine vs. engine games held in the CCC PGN archives. Various efforts have been made to keep track of the files, each of which corresponds to an event conducted by the CCC. [It's been so long since I last expanded the acronym that I had to look it up. CCC stands for Chess.com's 'Computer Chess Championship'.]
The latest effort was a file in XLSX format. In the 'CCC PGN II' post, I took a look at it and noted,
The XLSX data is also useful for a number of other tasks. First, it can be used to crosscheck the older archives mentioned in the original 'CCC PGN' post. Second, I can use it to catalog the CCC-live weekly snapshots that I've been taking for the last year or so. [...] I didn't have time to complete either of those two other tasks. I'll try to do that another time
On the first point, I found:-
129 files in the older archive 'CCC Archive 3/6 - Pastebin.com' [2020-03-06], and
145 files in the newer archive 'XLSX data'
The difference of 16 files is explained by three duplicate file names in the newer archive plus 13 files not included in the older archive. As for the second point, the catalog of my own 'CCC-live weekly snapshots' is shown in the following chart. The asterisks ('*') indicate an event that I couldn't find in the XLSX data; this might be an error on my part.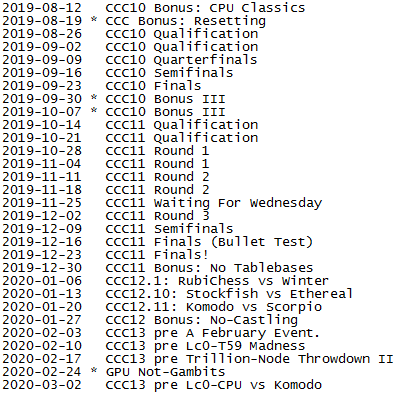 The first line corresponds to the PGN file:-
CCC10 Bonus: CPU Classics
https://cccfiles.chess.com/archive/tournament-34341.pgn
The last line corresponds to my post TCEC S17 L1 Finished; CCC13 Announced (March 2020). Why does CCC have so much trouble maintaining an index of PGN files for its ongoing series of events? Maybe they don't think it's important. If they would simply publish the list of new PGN files at the end of a CCC season -- currently CCC15 -- people who are interested in the files (like me) could take it from there.