Of all the auction items featured in this blog's long running series on Top eBay Chess Items by Price (March 2010), my favorites involve artwork. According to my informal selection rules, I should pick an item from the previous month, i.e. September 2020, but the item shown below ended on 1 October and none of the alternatives on my short list were particularly interesting. I'm also hoping that the rest of October will offer other items for the next eBay post.
Titled '19th century large French / Italian oil canvas - elegant figures playing chess' the painting sold for GBP 820.00, 'Approximately US $1,060.63' according to eBay. It attracted 28 bids from 16 bidders.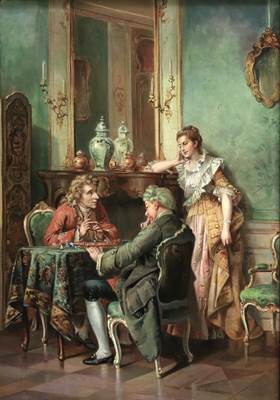 The item description repeated the title and added,
A lovely large French or Italian oil on canvas depicting elegant figures playing a game of chess in an interior. The work is very well painted and in good condition. The work is not signed so we have no idea who painted it but its a quality piece.

Title: "The Chess Game" • Signature: No visible signature • Provenance: Private UK collection • Medium: Oil on canvas • Size: c. 23 x 16 inches unframed; 29 x 22 inches framed • Condition: Very nice for age - ready to hang
I closed the previous eBay post on artwork, Georgian Player, Regency Set (May 2020), questioning the 'four figure price for a portrait by an unsigned, unknown artist'. I could ask the same question for any painting. I could also ask what features of the painting point to 'French or Italian'.