For the previous post featuring a Flickr photo, Keres' Last Move, I went with the photo that offered the best story. On my short list there was another series of photos, shown in the composite below, that risked offering too many stories.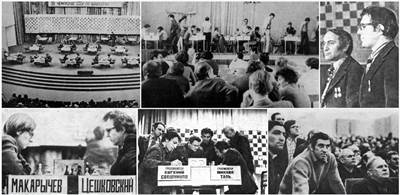 Photo top left: 1971 USSR Chess Championship © Flickr user Boris Galatiknova under Creative Commons.
That composite shows all but one of the photos that were available at that time from that Flickr user, indicating that the Flickr page is for a new user. Since then, several more photos have been added. Is this the start of a major new source of Soviet era chess photos? Time will tell.
For more about the event in the linked photo, see 1971 USSR Chess Championship (wikipedia.org). It starts,
The 1971 Soviet Chess Championship, held from 15 September to 18 October 1971 in Leningrad, was the 39th edition of the USSR Chess Championship. The tournament was won by Vladimir Savon, [a] little-known International Master.
The other thumbnails in the composite photo are from different years, events, and settings. Two of them show GM Mikhail Tal.
***
Later: The individual photo linked under my composite is one of the photos used on the Wikipedia page. Both photos have the same width and height. Coincidence?
***
Even later: No, it's not a coincidence. Another Wikipedia page, 1985 USSR Chess Championship (wikipedia.org), uses another photo from the Boris Galatiknova collection on Flickr, 52nd USSR Chess Championship 1985 (flickr.com). The previous photo, '1971 USSR Chess Championship', and this photo, '1985 USSR Chess Championship', were both uploaded to Wikipedia by the same Wikipedia user, Scoopbh. As far as I know, Soviet era photos are not covered by international copyright laws, so this activity is perfectly legitimate. What is the source of these scanned photos?