It's that time of the month again, when we look at the covers of U.S. chess magazines from 50 and 25 years ago. At first sight it's not obvious, but both of this month's covers have an element in common: Boston.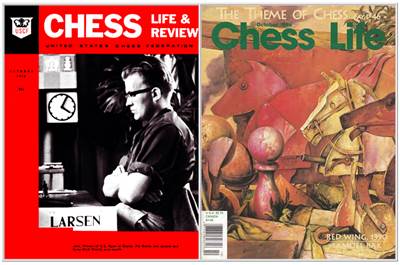 Left: 'Bent Larsen, Winner of U.S. Open in Boston. Pal Benko was second and Robert Byrne third. Details next month.'
Right: 'The Theme of Chess; Red Wing, 1990; Samuel Bak'
Chess Life & Review (50 Years Ago)
Let's skip ahead to the November 1970 issue of CL&R for the tournament report: 'Larsen Wins 71st U.S. Open - 303 Players Set New Record, by George Koltanowski, Tournament Director'.
A new record of 303 entries was set in the latest edition of the United States Open Championship, held in Boston, Massachusetts, August 9-22, 1970. The way the U.S. Chess Federation is growing, one can expect to see thousands participating in the U.S. Open in future years. The tournament was successful, too, in terms of strength -- there were 5 international grandmasters, 20 national masters, over 40 Experts among participants from all over the world.
Koltanowski wrote unusual tournament reports. For the 1970 U.S. Open, he gave more column space to the organization of the tournament than to the winners. Half of his report consisted of anecdotes about GM Kavalek, who finished in a tie for places 8-18.
A few month's earlier, in July 1970 & 1995 'On the Cover' (July 2020), Larsen also appeared on CL's cover. For his previous appearances, start with December 1968 'On the Cover' (December 2018).
Chess Life (25 Years Ago)
The two page feature on Samuel Bak included five color photos of the artist's chess paintings, a list of four concurrent exhibitions, and an appreciation by Bernard Pucker, whose gallery had set up a permanent exhibition. The appreciation started,
Each painting by Samuel Bak can be viewed and experienced as a short story; as a chapter in the history of modern times; or as an exploration of the essential questions which inform the meaning of human existence. [...] For the past three years, Bak has re-discovered the theme of Chess which first entered his artistic vocabulary in 1946. While in the Landsberg Displaced Person Camp, he created a watercolor featuring Chess imagery as a gift for his new stepfather.
As for the lead paragraph in this current post -- 'element in common' -- what does Boston have to do with Bak? For starters, the Pucker Gallery is located in Boston. On top of that, the page Samuel Bak (puckergallery.com), tells us that the artist resides in Weston, Massachusetts, which happens to be a town just west of Boston. For another post about Samuel Bak on this blog, see Bak to Basics (January 2016).