At the end of last month we had two Yahoo posts (see the note at the end of this post for an explanation of 'Yahoos'):-
At the end of that 2021 post I pledged,
I could go on and on, but I'll stop the stats here and promise to be back at the end of the month to start a new year of Yahoos.
So here we are. I'll start with the usual count of news sources, shown below.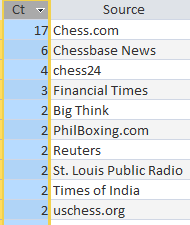 In January, we had 10 sources with at least two chess stories, plus 44 sources with a single story. That makes 86 stories total.
Of the 101 stories returned by Google, the other 15 were repeated from previous months. I said in the December 2021 post that I would look at those some day and I haven't forgotten.
The sources with two or more stories are dominated by the usual names: Chess.com, Chessbase News, Chess24. There are also a few newcomers on the list.
For 'PhilBoxing.com', the 'Phil' stands for Philippines and the 'Boxing' includes other sports. The site has a staff writer who specializes in chess articles centered on news from the Philippines. For 'Reuters', the stories were both about the Australian Open -- tennis, not chess. For 'Big Think', both articles are worth recording for posterity:-
I went back to the list of all Google News articles recorded in 2021, and discovered that Bigthink.com was missing completely. Wikipedia's page, Big Think, which is not much longer than a a stub, starts,
Big Think is a multimedia web portal founded in 2007 by Victoria Brown and Peter Hopkins. The website is a collection of interviews, presentations, and roundtable discussions with experts from a wide range of fields.
The 'Chess boom' article has a chart showing growth at Chess.com over the last two years. After dipping during the summer of 2021, activity has been increasing for the last few months. This might simply be the traditional annual cycle for chess -- peaks in the winter, troughs in the summer -- or it might be something else. The current year will confirm or break the trend.
What was the most popular chess topic in January? I would have guessed the Tata tournament, but Google returned only two articles for the month. More popular were stories related to the boom theme, specifically chess as a business. Here's a sample:-
Looks like the boom is being managed by competent hands. What a contrast with the evolution of the Fischer boom in the 1970s.
[Yahoos (mainstream news stories about chess) are derived from Google News top-100 (or so) stories from the past month.]