Many of the recent posts in this blog's monthly 'On the Cover' series -- where the previous post was December 1971 & 1996 'On the Cover' (December 2021) -- featured World Championships of yesteryear. This month, both sides of our de-facto time capsule feature aspects of art important to the royal game: chess composition and chess sets.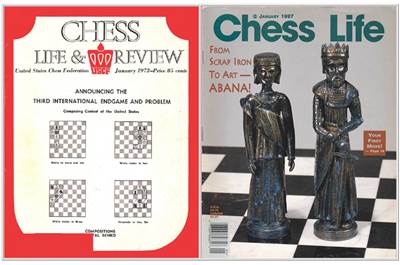 Left: 'Announcing the Third International Endgame and Problem Composing Contest of the United States'
Right: 'From Scrap Iron to Art - ABANA'
Chess Life & Review (50 Years Ago)
Four new original compositions by Pal Benko illustrate "1972" and delineate the competition categories: endgame studies, 2-movers, 3-or more-movers, help-mates. See [inside] for contest rules [and] for solutions.
The rules appeared in the 'Benko's Bafflers' column.
We take great pride in announcing the third in our regular series (every two years) of tourneys for endgames and problems. The contests are informal and are open to composers anywhere in the world.
The '$600 prize fund', looking skimpy by today's standards, was partitioned like this:-
Category 1st 2nd 3rd 4th 5th
1 Endgame Studies $75 $50 $35 $20 $10
2 Two-move Direct mates [...]
Anyone as clueless as I am about chess composition might be interested in certain details of the contest. For example:-
In addition to the above prizes, the best composition in each class by a US composer will earn $25 credit which may be applied to merchandise offered in the USCF catalogue.

Restriction: All submissions must be original compositions never before published. [...]

Compositions will be judged by internationally known judges, whose names will be announced in forthcoming issues. No material will be returned. If a composer does not hear about his composition within two years, or if it is not published within that time, the ownership of the composition reverts to the composer, as specified in FIDE regulations.

The composition is sponsored by the Piatigorsky Foundation in cooperation with the U. S. Chess Federation. The second contest is. of course, over. Awards will be announced soon.
The second contest was introduced two years ago in January 1970 & 1995 'On the Cover' (January 2020); 'Announcing the Second International Endgame and Problem Composing Contest of the United States'.
Chess Life (25 Years Ago)
ABANA -- Artist Blacksmiths Association of North America -- held their annual convention in Alfred, New York, this past June, and created art from iron, silk from a sow's ear. Chess Collectors International [CCI] eat your collective hearts out! • Cover photograph by Mark Sampson

[Embedded photo:] Charles Orlando, a master forger, is one of the many blacksmiths that worked on crafting the ABANA sets and tables. Mr. Orlando's chapter crafted one of the chess tables.
The two page cover story, 'The ABANA Chess Set' by Jim Robbar, started,
The "Artist Blacksmiths Association of North America" (ABANA) was formed in Lumpkin, Georgia during a hammer-in with 20 people that were interested in preserving and sharing information about blacksmithing. From these humble beginnings in March 1973, ABANA has grown to 4,000 plus members around the world.

Today there are over 50 chapters of ABANA, some as far away as Australia. International conference's are hosted biannually in North America. This past June 1996 the "New York State Designer Blacksmiths" hosted the 1996 ABANA conference. Almost 1200 blacksmiths and their families attended the conference that was held at Alfred State College campus in Alfred, New York. Demonstrators also covered the globe at this year's conference.
The story went on to explain how chess fit into the narrative.
With each conference an attempt is made to have a large share of chapters participate in forging a choreographed piece that can form a larger unit. For 1996, chess was chosen as the theme.

With the number of chapters, we quickly figured that two complete sets could be easily made. As chairman of the auction, I also facilitated the completion of the chess sets.

Decisions were made by committee as to what sizes would be used for the chess sets and boards. Lots of phone calls started the chapters working. A local ceramic tile company was contacted to make the black and white marble board. Each square was 3x3 inches with a 2-inch black marble border.
The story included more than two dozen photos illustrating various details of the two sets. What happened to them? The article mentioned, 'Each set was bought by an ABANA family during the Friday night auction.' Maybe the CCI knows more about their current whereabouts.