I finished my previous post, Google, Again! (January 2022), saying,
Given (1) that Google is nagging me to use new services, (2) that I need to reconsider the use of 'matched content', (3) that I need to decide if I want to continue to run such large ads, and (4) that there are other Google issues to be addressed (not mentioned here), I'm going to tackle Google issues over the next few posts.
For bullet (1), the 'new services' are:-
(a) 'Let Google place ads for you', and (b) 'Let Google choose the best ad sizes for you'
It turns out that (a) can be applied independently to my five different resources: one site (m-w.com) and four blogs (including this one). As for (b), it applies to all five resources at the same time under a global parameter called:-
Ad units: Ad size optimization setting; Let Google optimize your ad units on mobile
That means it affects only mobile ads. On top of these considerations, m-w.com uses two separate styles that have to be considered separately: one style for 'The World Chess Championship' and one for 'Chess for All Ages'. I decided not to make any changes for now, except to turn on '(a) "Let Google place ads for you"' for this blog. So far, I haven't noticed any changes.
For bullets (2) and (3), there is nothing urgent, so I moved on to (4). The top 'other issue' is shown in the following screenshot from the index page on my World Chess Championship site (linked in the sidebar).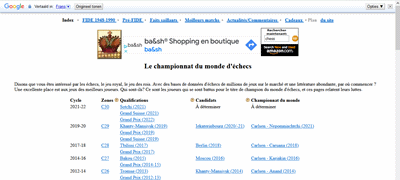 That blue bar at the top of the page with the Google logo to the left is apparently related to a feature called 'Site translation' further down the page. The bar appears every time the page is opened or refreshed, whether or not 'Site translation' has been invoked. In this screenshot, I've asked for a translation into French.
The language used in the blue bar is Dutch -- probably because I live in a Flemish region of Belgium -- and I can't change it. It has a mouseover message that I don't understand and that I can't translate easily. The irony!
I first noticed the bar last year and wondered if the page would be better off without it. I don't know how it got there and I don't even know what it's called. More effort is required.
That makes lots of questions without many answers. And that's life in Google's world.