After the last two posts reminding us of the horrors of war -- 'Does Not Ship to Belgium' (March 2022) and eBay 'Stands with Ukraine' (April 2022) -- the long running series Top eBay Chess Items by Price (March 2010) returns to its spiritual roots. By that I mean art, last seen in Surrealism Does Not Apply (February 2022).
The painting pictured below was titled 'Vintage 1950s-60s Oil Painting BACIA GORDON Mid Century Modern ISRAEL Children Chess'. Working from the available information, I calculate that it sold for $400, 'Best offer accepted'.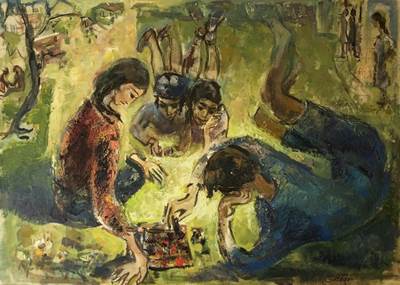 The description consisted of a number of keyword/attribute pairs, sometimes inconsistent. For example,
Title: Children Playing Chess - Hadera; Subject: Children Playing Chess - Israel • Production Technique: Oil Painting; Material: Canvas; Framing: Framed • Size: Large; Item Length: 28 in; Item Height: 22 in • Region of Origin: Unknown; Culture: Israel • Time Period Produced: 1950-1959; Year of Production: 1960
[Wikipedia's page, Hadera, informs, 'Hadera is a city located in the Haifa District of Israel, in the northern Sharon region, approximately 45 kilometers (28 miles) from the major cities of Tel Aviv and Haifa.'] Another keyword in the description, 'Seller Notes', warns,
Vintage painting, oil on board. It appears to have been painted while framed. There are a few smears of paint on the inner frame as though the brush touched it while painting. The frame has some wear. It has not been treated with love and care! Lots of smudges, scrapes and marks. Great decor by a prolific, collectable artist. (1904-1977). Painting itself only has minor age wear.
There's a domain dedicated to Bacia Gordon's work, The Artwork of Bacia Gordon (ingatheringofexiles.com). Its welcome starts,
After Bacia Gordon's passing in 1977, a large collection of her work was shipped to Israel. The idea of bringing Bacia's collection to Israel was Rivka Guber's. Since the paintings reflect the history of Lachish region -- people and landscapes, Mrs. Guber wanted this collection to be in the Lachish region. In those days the regional library was called "SHEKEL" which is a combination of three municipalities: Qiryat-Gat, Lachish and Shafir. The library of Qiryat-Gat was the central library. The three participants decided that the central library should be in charge of the collection.
The site's 'More About Bacia' page offers a biography, critical appreciations, and excerpts of her remarks from 'program notes to her many exhibits'. The page starts,
Bacia Gordon (1904-1977) came to the United States from Poland and studied at the Art Institute of Chicago. She traveled widely the United States, Mexico, Europe, and Israel. She was a member of, and has exhibited with Artists Equity, Jewish Arts Club, the Renaissance Society of the University of Chicago, The Chicago Art Institute, and in Migdal Ashkalon, Israel. She was also a member of the Chicago Society of Artists. Her work is represented in many private collections in New York, Los Angeles, Detroit, Cleveland, St. Paul, Rockford, Milwaukee, and Chicago. Mrs. Gordon spent much time in Israel in the 1950s and 1960s, and most of the works in this web site reflect her stay there.
One of her remarks: 'I have been privileged as few tourists have been, to come close to the heart of Israel.'