Early in October 2005, an auction related to Bobby Fischer appeared on eBay's site. The auction essentials were:-
Item name: Bobby Fischer's chess book collection and other items
Item number: 8702434554
End date: Oct-13-05 00:51:04 PDT
The description said,
Bobby Fischer's chess book collection and other items • Rescued from a So. Cal. flea market about 6 years ago, here are Bobby Fischer's personal items from the infamous storage locker which was sold for lack of rent payment. It is a unique opportunity for someone in the international chess community to perserve the legacy of who many feel is the most talented chess player of all time.

I have tried many times in the last few years to reach Bobby (I did meet him when we were both younger) to return these items to him, but I feel his latest stand on America would not allow him to do this.

What is being offered is:
- The original manuscript and galley prints of Bobby's best selling book, "My 60 Most Memorable Games" (originally titled, "My Life in Chess") This covers an entire table top (see picture) and contains numerous notes and corrections which should make fascinating study for years to come.
- A ceramic plaque given to Bobby, Bahia Blanca, 3/11/71
- About 20 meticulously crafted "crib" notes for tournament preparation:-
[...]
The built-in counter showed '0001' when I saw the auction, suggesting that I was one of the first people -- perhaps the very first -- to see it. The auction mentioned an additional Excel file, so I sent a message to the seller via eBay's internal messaging system, requsting a copy. He replied,
Here it is. I'm still working on listing all the paperbacks and hard bound books, but it will give you a better idea of what is there. If I finish this week, I'll send you an update. Thanks for your interest. LAAF (Note: The first worksheet is a general index, and each finished worksheet is for a specific box.)
Shown below is a screen capture of the first worksheet. The first column shows box numbers; the last column shows box weights. The box numbers colored green are detailed on a separate worksheet.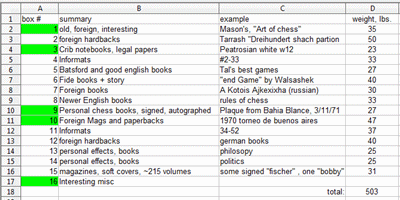 I was the About.com chess guide at the time and opened a thread on the related forum. The forum and thread disappeared long ago. If I remember correctly, the eBay auction was cancelled after a few days. Some of the items went on display a few years later.
There are several stories here. The first is the 'infamous [Bekins] storage locker'. The second, perhaps fictional, is the Southern California flea market. The other stories are about the items included in the auction, which were not the total contents of the storage locker. For more about the contents, see A Memorable Life: A Glimpse into the Complex Mind of Bobby Fischer (worldchesshof.org; PDF).