A few days ago, in A Year of Anniversaries (May 2022), I noted that the year 2022 will commemorate historic chess events from 50 and 25 years ago. Our two American chess magazines from those time periods were still a few months away from covering those events extensively. Nevertheless there was plenty of other news to report.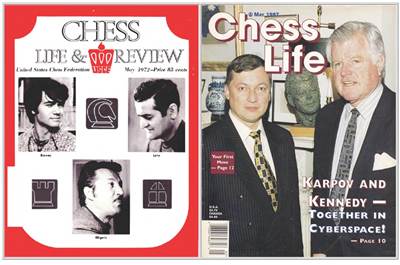 Left: 'Browne / Levy / Gligoric'
Right: 'Karpov and Kennedy - Together in Cyberspace'
Chess Life & Review (50 Years Ago)
In the center, Svetozar Gligoric, winner of the Statham Tournament in Lone Pine, California. Flanking him are Walter Browne, left, and Louis Levy, right, co-winners of the National Open in Sparks, Nevada. The National Open story is [inside]; the Lone Pine story will appear next month.

[The cover explanation referred to small copies of the three photos on the same page as the table of contents. On the cover pictured above, Gligoric is beneath the other two.]
We last saw GM Gligoric 'On the Cover' -- with the same photo -- in the April 1971 & 1996 post (April 2021). GM Browne was last seen a few months ago in the post for February 1972 & 1997 (February 2022). As for Levy, see Louis Levy (prabook.com; 'Prabook is a registered trademark of World Biographical Encyclopedia, Inc.').
The CL&R cover description mentioned two tournaments: the National Open and Lone Pine. The first event was covered in a May CL&R article titled 'The National Open' by George Koltanowski. His report started,
The 1972 edition of the annual National Open Tournament, held in Sparks, Nevada, attracted 134 players, and Was a hard-fought battle for the top places right down to the wire. Walter S. Browne, a grandmaster whose official nationality is Australian, and Master Louis Levy of New Jersey shared the title with seven points out of eight. Walter defeated visiting Yugoslav star Svetozar Gligoric in the seventh round in a titanic game lasting 84 moves.
The second event was covered the following month in the June CL&R. Going back a year to the May 1971 & 1996 'On the Cover (May 2021), there was no article on the first Lone Pine tournament. Discussing Koltanowski's report on the 1971 National Open, I noted,
As for Lone Pine, Koltanowski mentioned, 'The Lone Pine event may have hurt, but only slightly.' The paragraph about the cover and the two (unfavorable?) mentions by Koltanowski are the only references I could find to the first Lone Pine event in the decade long series. Why was it overlooked?
A year later the oversight was corrected in a two page report by Isaac Kashdan titled 'Statham Tournament at Lone Pine'. It started,
Hastings. England: Palma de Majorca, Spain; Skopje and Vincovci. Yugoslavia; Wijk aan Zee, Holland; Mar del Plata, Argentina; Natanya, Israel; and Reggio Emilia, Italy. What do all these have in common? Chess players will recognize them as small towns around the world which sponsor chess tournaments on a regular basis.

Add to these Lone Pine, California. The second in an unusual series of tournaments was held there from March 12 to 18 this year. Remember the name. It will prove to be one of tae great centers of American chess, at least once a year.

Chess came to Lone Pine when Louis D. Statham established his residence there, moving from an estate in Beverly Hills. He learned chess several years ago, after semi-retiring from an active business career. He is involved in correspondence chess, with dozens of games going on regularly. But there was no one to play with in Lone Pine. Statham wanted the residents to see what the game was all about, and he thought that some of our prominent chess masters might enjoy playing where they could breathe fresh air, away from the usual hotel atmosphere.
The annual event's stature continued to increase in the following years.
Chess Life (25 Years Ago)
Karpov and Kennedy and Chess.net • "One secret to becoming a champion is to associate with strong players. Inevitably their ideas will rub off on you. Through the Internet and Chess.net, average players have a chance to do just that. Talented young players who might never find a capable mentor, now can find some of the best in the world." - World Champion Anatoly Karpov

In his inaugural address, President Clinton made reference to getting the Internet into schools. The next day, World Champion Anatoly Karpov and John Fanning of Chess.net met for almost an hour with Senator Edward Kennedy to discuss the role of chess and education for students throughout the world.

Chess.net is an Internet-based project that combines a free chess server with an online chess school. GM Karpov, 45, is one of the owners, and regularly gives exhibitions there, as well as providing commentary on major events.

Chess.net intends to continue working with teachers and legislators to see how chess can help smooth the transition to the Internet. They also plan to add more programs specifically for scholastic use, and have produced a "Teacher's Guide to Chess on the Internet," which is available free for download from the www.chess.net site, by e-mail by writing to web-master@chess.net.

The 20-page report covers interesting websites, how to play chess on the Internet, and sample lesson plans to using Internet chess to discuss international news and cultures in the classroom.

John Fanning, CEO of Chess.net, explained why they are committed to chess education as well as entertainment. "I'm a father, and I have the same concerns as any parent. Most of the computer/video games our young children are exposed to are riddled with violence, mindless and base. If our children can instead experience the intellectual challenges and excitement of chess, learn deep thinking, focus, and patience, we may help to accomplish something great." - Duif Calvin
Jumping ahead 25 years to the present, everyone knows about the extraordinary success of Chess.com. Has the story of the earlier Chess.net been recorded? That might make a good post some other time.