Today marks the 50th anniversary of the Fischer - Spassky Title Match; Reykjavik, VII-VIII, 1972, sometimes called 'The Chess Match of the Century'. It's not just a coincidence that it happens to be the next Fischer Friday post; I've been planning for it since the series started.
The previous post in the series was Hatchet Job (June 2022). There I theorized,
[Brad] Darrach apparently took the notes from his 'hundreds of interviews that took up hundreds of hours', storyboarded them in chronological order, and constructed dialog based on the words of his interviewees
This lets us build a day-by-day chronology of the events leading up to the start of the match. This should be confirmed by the site I referenced in Bobby Fischer Day by Day (May 2022).
When?
What?
Where?
(Darrach)
Thu, 08 Jun
Tennis tournament San Diego
p.011
Sun, 25 Jun
RJF scheduled to fly to Iceland
p.012
Mon, 26 Jun
'Spies on the line' (A)
p.012
Tue, 27 Jun
RJF flies LA to JFK w/ Saidy; goes to Yale Club
p.015
Wed, 28 Jun
Yale Club; RJF meets Fox & Stein re film [p.019]
p.015
Thu, 29 Jun
Yale Club; RJF goes to JFK for night flight; flees JFK to Saidy's parents' home [p.046]
p.035
Fri, 30 Jun
RJF Sabbath (sundown to sundown)
Sat, 01 Jul
Opening ceremony, Iceland
p.081
Sun, 02 Jul
Scheduled match start, Iceland; Euwe postpones 1st game for two days
p.092
Mon, 03 Jul
Slater offer; Kissinger call; RJF flies to Iceland
p.101
Tue, 04 Jul
RJF arrives Iceland; 1200 draw for colors - RJF sends Lombardy - Soviets demand apology
p.117
Wed, 05 Jul
Photos for Life; 1800 Soviet press conference, demand apology; RJF dictates letter [p.146]
p.132
Thu, 06 Jul
Draw for colors; RJF moves to hotel [p.156]
p.150
Fri, 07 Jul
Photos for Life; 2200 swimming pool
p.158
Mon, 10 Jul
0100(!) RJF inspects playing hall w/ Cramer, Thorarinsson, Fox; 0400 RJF considers firing Cramer
p.159
Tue, 11 Jul
Game 1; RJF arrives 7 minutes late; camera noise; 29...Bxh2 [p.172]; adjourned
p.164
Wed, 12 Jul
Adjournment resumption; cameras a problem
p.178
Thu, 13 Jul
Game 2; forfeit
p.183
Fri, 14 Jul
1000 Match committee upholds forfeit
p.193
Sat, 15 Jul
1800 (?; 0600) Marshall arrives Iceland
p.197
Sun, 16 Jul
0600 RJF plans to leave Iceland; 1500 RJF agrees to play in back room; Spassky also agrees; 1700 Game 3; Fischer beats Spassky for the first time ever
p.199,203
Tue, 18 Jul
Game 4; the players return to the main hall; the match proceeds normally
p.213
(A) 'They Got Spies on the Line!' (April 2016)
This chronology also helps make more sense out of Fischer Wirephotos I (March 2016), and Fischer Wirephotos II (ditto). In 'Wirephotos I' I remarked,
My favorite photos are the third through fifth in the second row. They were taken on the night of 29th June, a period covered in Darrach's second chapter ('A Night at the Airport', see 'Real Bobby Fischer' for background). Frank Brady's 'Profile of a Prodigy' (Dover 1973) covered the same hours in a single, long paragraph (p.225).
The photo shown below is a larger version of one of those favorite photos. It was shown in the 2nd row, 5th photo from left.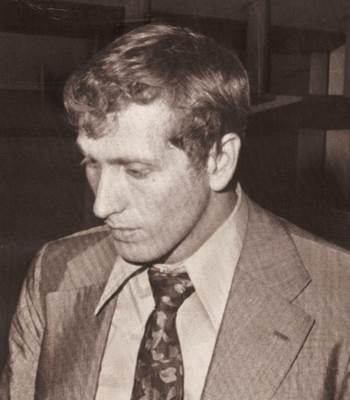 The original AP caption said,
(JFK2) NEW YORK, June 30 -- SERIOUS FISCHER -- A serious-faced Bobby Fischer is shown in a Kennedy Airport coffee shop about midnight, Thursday, as he apparently was preparing to fly to Iceland for his World Championship chess series with Russian champion Boris Spassky. Seconds later Fischer broke away from the group of photographers and reporters and raced out into a driving rain. (AP wirephoto) (jsb60100stf) 1972
The chronology in the table is a short version of the events. For a longer version, see Why The Match Of The Century Almost Didn't Happen (chess.com; PeterDoggers); 'According to Life reporter Brad Darrach, who collected his articles into the brilliant book Bobby Fischer vs. the Rest of the World...'