A week ago, in According to Darrach, Day by Day (July 2022), I recalled the opening ceremony of the 1972 Fischer - Spassky Match, Reykjavik (m-w.com). According to the chronology in the 'Day by Day' post, 50 years ago fell on Saturday, 8 July, which was Fischer's sundown to sundown Sabbath. The match was on and the agreed start date was Tuesday, 11 July.
The match might have been on, but the difficulties surrounding the match were not over. The first game and its adjournment on the following day were marred by Fischer's complaints about camera noise. He forfeited the second game in protest.
The photo below, part of the sequence in Fischer Wirephotos I (March 2016; bottom row), and Fischer Wirephotos II (ditto; top row) shows the two antagonists in the camera controversy.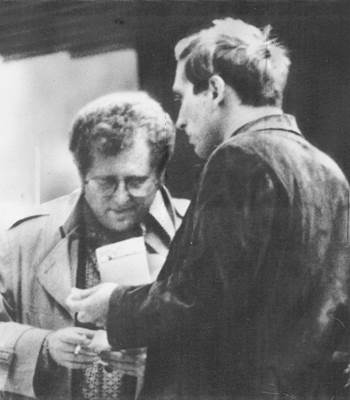 The photo's official caption said,
(REY-I) REYKJAVIK, ICELAND, JULY 14 (AP) - "FOX V FISCHER" - Left to right; Chester Fox (who holds filming rights of the chess games) and Bobby Fischer, holding a pre-dawn meeting at Fischer's hotel this morning. (AP WIREPHOTO) (jfp 14/7/72 rr)
According to our chronology of the match, 14 July was the day after Fischer forfeited game two. The match committee upheld the forfeit that morning. For another photo from the same day -- this one via the source documented in Bobby Fischer Day by Day (May 2022) -- see Robert Fischer Boycotts Second Match in Protest Against Men Hired to Disruptively Operate Cameras (newspapers.com; The Des Moines Register, 15 July 1972):-
Fischer Walks Alone • Bobby Fischer. the American chess expert strolls out of his hotel in Reykjavik, Iceland, at dawn Friday after talks with Chester Fox, who holds the filming rights to Fischer's World Championship series with Russia's Boris Spassky. Fischer boycotted Thursday's game because of the presence of cameras.
The 'Walks Alone' photo is as unremarkable as the day was remarkable.