A couple of months ago, in Caissartistic License (June 2022), I wrote,
For this month's Flickr Favorite, I had two photos on the short list, neither of which I understood. Since I couldn't decide between them, I used both.
It's a nice dilemma to have and this month I had similar. This time it wasn't for two photos; it was for two paintings. And it wasn't for a lack of understanding; it was for choosing between a Ukrainian artist and a Russian artist. What to do? I used Flickr's search function on the photographer -- keyword 'chess', of course -- and came up with the following composite image.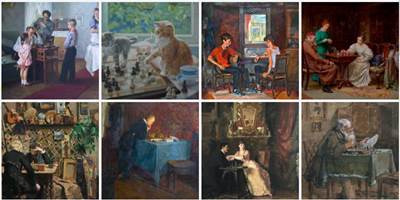 Alexey Solodovnikov, "Young chess player", 1951 © Flickr user Yulia Mi under Creative Commons.

The caption is for the painting in the upper left corner of the composite. The associated Flickr.com link leads to the Ukrainian artist, further identified as 'Alexey Solodovnikov (Ukraine, 1928-2017)'.
The painting by the Russian artist, 'Nikolai Krutov (Russia, 1953)', is also in the top row, third from the left. For that Flickr.com link, follow the link for the Ukrainian artist, click on the photographer's name, and use the search function.
The first painting in the bottom row, by Gustav Wentzel, was seen in a previous Flickr Favorite post, Attention to Detail (January 2018), although by a different photographer. The other five paintings in the composite are new to me, at least as far as I can remember, which is not very far. A search for 'chess' on the Flickr photographer featured in 'Attention to Detail' yields 11 results, some of them well known chess paintings.