The last time we saw a painting on Top eBay Chess Items by Price (March 2010) was Chess in the 'Heart of Israel' (May 2022). In that post I called art the 'spiritual roots' of the series. The painting shown below was in an eBay auction titled 'Large Lloyd Garrison Mid Century Oil Painting Chess Medieval Knights Mystic'. It sold for US $315.00 after three bids.
Since that price is below a normal cutoff point for 'Top Items by Price', how did it sneak in? It's eBay's practice to sort the top items by price plus shipping, and the shipping cost on this item was over $200. Good thing, too, otherwise I might have overlooked it.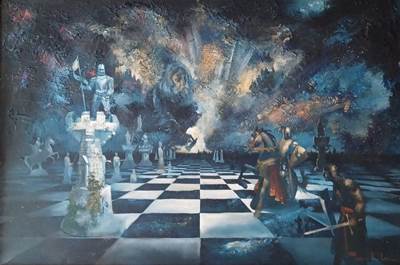 The description said,
This is a wonderful surrealist vintage mid-century oil painting with a medieval chess theme (Game of Thrones) with knights and armor in an outworldly battle by listed artist Lloyd Garrison. I believe this dates to the 1970s.

This fantastical painting is in very good condition with no damage. There is one rough area to the frame which I have photographed and a couple of small scuffs. It is professionally framed of the period in a wood frame with gold gild and black. There are a couple of flecks to the paint and you may notice some dots or splatters, which are intentional from the artist. This displays wonderfully and is painted on board I believe. In frame measures 40" L x 28" H.
In the center of the painting a wizard is picking up a chess piece from a chessboard that extends (infinitely?) in all directions. Another painting on the same theme by the same artist can be seen at Lloyd Garrison, 20th C. American, Oil Painting Surrealism Chess Game Landscape God in Sky (liveauctioneers.com). The artist's web site, Lloyd Garrison, painting, civil war, [...], says,
My style is realistic, but my subject matter is unlimited. I love both a variety and a challenge. Revolutionary, Civil War, landscapes, still-lifes, portraits, Surrealism, Aviation, Nautical, Westerns, wildlife, and florals are a few of my specialities.
One page on the site, 'Gallery - Miscellaneous', has a couple of other paintings based on a chess theme.