This month's 'On the Cover' post, August 1972 & 1997 'On the Cover' (August 2022), included a paragraph that reminded me of a few images that show up frequently on eBay. The connection is St. Petersburg FL:-
The tournament report, 'The 1972 Women's Championship' by TD Bob Braine, started with three paragraphs that could have been the introduction to a tourist guide: "The Europeans have an expression: There is a city for everybody. St. Petersburg on Florida's suncoast is for chessplayers."
I found multiple copies of two different scenes. Here are two from postcards.
Top: 'Tourists Playing Checkers, Chess, and Dominoes in St. Petersburg, Florida. "The Sunshine City."'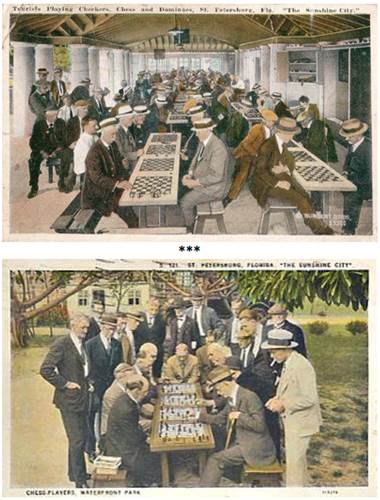 Bottom: 'St. Petersburg, Florida, "The Sunshine City" • Chess-Players, Waterfront Park'
I have a full scale scan of the top postcard, which clearly shows that all of the games are checkers. One of the auctions dated the card to 1928, another to 1934.
The bottom postcard shows chess. A black-and-white copy was a wirephoto with the following info:-
Original wire press photo • Size : 6" x 8" • Date : 1920s or early 30s • Place : St Petersburg, Florida • Condition : good, many creases, lower right corner folded • Text attached to the photo : Chess expert shows 'em how. Maurice S. Kuhns, of Chicago (with cane) President of the National Chess Federation of America, gives demonstration of his uncanny ability underneath a shady rubber tree at St Petersburg, the sunshine city of Florida, where he is spending the winter.
Was it a small simul? The color copy was the postcard:-
Published by Asheville Post Card Co., Asheville. N. C. Made in U.S.A. Card is part of the "Beautiful Florida Series"
In St. Petersburg, Florida, Wikipedia informs, 'As of the 2020 census, the population was 258,308, making it the fifth-most populous city in Florida [...] the city was named after Saint Petersburg, Russia'. That makes the chess connection even stronger.