A few weeks ago I posted 2022 CJA Awards - Part 1 (August 2022). Now I'll post 'Part 2'. Following the lead from last year's 2021 CJA Awards - Part 2 (September 2021), I'll feature four specific awards:-
Chess Journalist of the Year
Best Chess Book
Best Chess Art
Best Chess Blog
Winner of the most prestigious award, 'Chess Journalist of the Year', was Elshan Moradiabadi. His certificate is reproduced below.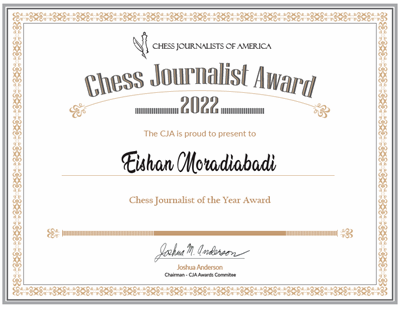 It's not immediately obvious, but the winner's name is misspelled ('Eishan') on the certificate. It turns out that there's also some confusion on the spelling of his family name. His Wikipedia entry, Elshan Moradi (wikipedia.org), says,
Elshan Moradi Abadi (Persian; born 22 May 1985) is an Iranian-American chess grandmaster.
The winner isn't bothered by these details. On his LinkedIn page, Elshan Moradiabadi (linkedin.com; 'Content creator at Chessable Limited'), which is more under his personal control than the Wikipedia entry, he displayed the same CJA certificate and added,
There are certain achievements that do not change your life in terms of income or career but leave a good feeling with you forever.
The first comment was from Jamaal Abdul-Alim ('2nd Education Editor at The Conversation Media Group; freelance writer, chess journalist and ghost writer.'). He said, 'This is probably my favorite award of all time. I won in 2013. Good to be in such great company.' [NB: I covered the awards of that year in 'Got to Find Me a Chess Blog!' (August 2013; Warning!: criticism of CJA award procedures, with comments).]
The 'Best Book' awards are always problematic to cover in a short blog post because there are several awards. Here are the three winners in the 'Best Chess Book' category ('Award • Person/Brand • Source • Title'):-
Best Book - Instruction • Peter Giannotos • New in Chess • 'Everyone's First Chess Book: Fundamental Tactics and Checkmates for Improvers'
Best Book - Other • Andy Soltis • McFarland Books • 'Smyslov, Bronstein, Geller, Taimanov, and Averbakh'
Best Self-Published Book • World Chess Hall of Fame • Staff • 'Mind. Art. Experience. 10 Years of Chess & Culture in Saint Louis'
The Soltis book won a second award, 'Best Book of the Year' in category 'Top', which was a new award for 2022. Along with the two book awards, GM Soltis won two other 2022 awards.
As for 'Best Chess Art', this is also increasingly problematic. Not too long ago, it was a single category covering various art genres. Now the different genres have their own awards. In recent years, I've used magazine covers to represent the awards. This year the award was listed as:-
Best Single Chess Magazine Cover • Best Visual Arts • Winner • Ian Spanier - Photographer • Chess Life, July 2021, Cover • John Donaldson - The Fischer Project
Spanier and Donaldson both won multiple awards in 2022, but a discussion of those might take an entire post. The last of the four awards I follow, 'Best Chess Blog', was:-
Ray Linville • Learning with Each Game • Chess.com
If that name sounds familiar, it's probably because Linville won the same award in 2020 and 2021. This year he won against two other entries.
Congratulations to all award winners, not just those I've mentioned here but also to all other winners, co-winners, and honorable mentions. The great chess boom of 2020-21 has lost some of its internal energy, but the work of chess journalists carries on through thick and thin. In 'Part 1' I ended the post saying,
There is so much to discuss this year that I might even squeeze out a 'Part 3'.
Here are a few ideas for 'Part 3', '-4', and so on, no squeeze necessary:-

Winners of multiple awards (e.g. Soltis, Spanier, and Donaldson)
Art awards (seen visually)
Youtube awards (plus Twitch and podcast awards)
The CJA's Chess Journalist (it's back!)
'Null' awards (no winner listed)
That's why I follow the CJA award process every year, despite its many imperfections. The world of chess is small, and the world of chess journalism is even smaller, but the creativity evident in both is massive.