After two consecutive posts featuring multiple photos of modern players, last seen in 1997 Linares International (July 2020), the long-running series on Top eBay Chess Items by Price (March 2010), returns with an item that is more artistic. It's also a chess comic, a category for which I have a special fondness.
The item pictured below was titled 'Strange Adventures #35 CGC 8.5 OW-W DC-1953 Chess Cover'. It sold for US $643.93 after 26 bids from 12 bidders.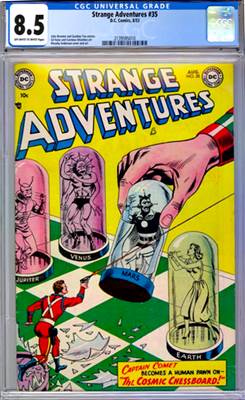 The caption on the bottom right says,
Captain Comet becomes a human Pawn on - "The Cosmic Chessboard!"
The pieces in the glass cases are named Jupiter, Venus, Mars, and Earth. The description added only the mysterious phrase, 'Tied for Highest Graded Copy.' This probably refers to the 'CGC 8.5' mentioned in the title. For more about the CGC classification, see a previous post in the 'Top eBay Chess Items' series, JLA Chess Comics (April 2019).