In 2022 CJA Awards - Part 2 (August 2022), I promised a follow-up:-
In 'Part 1' I ended the post saying, "There is so much to discuss this year that I might even squeeze out a 'Part 3'." Here are a few ideas for 'Part 3', '-4', and so on, no squeeze necessary. [...]
The first idea was 'Winners of multiple awards (e.g. Soltis [x4], Spanier [x4], and Donaldson [x3])', where I've added, e.g. '[x4]' to show how many awards each of them won. Although the numbers add up to 11 awards, Spanier and Donaldson were named jointly on one award:-
Honorable Mention; Best Story of the Year; 'The Fischer Project'; John Donaldson (author), Ian Spanier (photographer); Chess Life, July 2021
That one story accounted for five of the ten awards. IM Donaldson had one other award for the same story (Winner 'Best Feature Article - Print') plus one Honorable Mention in 'Best Print Articles' for 'Bobby Fischer's Lost Game Scores' in American Chess Magazine (ACM) #26.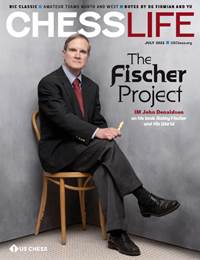 All of Spanier's awards were related to the 'Fischer Project' article. These included 'Best Single Chess Magazine Cover', shown on the left.
Two of Soltis's awards were 'Best Book' (including 'Book of the Year') for 'Smyslov, Bronstein, Geller, Taimanov and Averbakh', published by McFarland. The other two awards were for 'Frank J. Marshall: A Century Ahead of his Time' in ACM #22 (Honorable Mention) and his 'Chess to Enjoy' column in Chess Life (CL; Co-winner).
CL's 'Fischer Project' included a side story by Ian Spanier titled 'Influenced by a Legend'. It started,
There I was, a 19-year-old intern at GQ Magazine when in walked the Scottish, whitehaired, seersucker suit-wearing LIFE magazine legend Harry Benson. I knew Benson's work from college, and was a huge fan [...]
Not entirely by coincidence we saw Benson in the previous post October 1972 & 1997 'On the Cover' (October 2022; 'Bobby Fischer visiting a farm near Reykjavik during the match.'). Also not entirely by coincidence we might be seeing more of Benson in a future post.
Another idea for a 'Part 3' -- let's call it 'Part 3 bis' -- was 'The CJA's Chess Journalist (it's back!)'. To date, three numbers (XLV, XLVI, and XLVII) dated 2022 are available via the CJA's home page, Chess Journalists of America. Of special interest to followers of the CJA awards are two articles by CJA President Joshua Anderson:-
Final Report: 2020 CJA Awards (XLVI), and
Final Report: 2021 CJA Awards (XLV)
The report on the 2021 awards started,
The 2021 CJA Awards were the largest and most diverse in the years that I have been involved in the awards. We had a record number of entries, 185, in a record number of categories, from a record number of entrants, judged by a record number of judges, at least for the years in which I have been the Chief Coordinating Judge.
Five of the 2022 awards went to articles published in the Chess Journalist. Issue no.XLV started, 'This is the first issue since 2019. The plan is to make it quarterly, but that is subject to having submissions.' As far as I know, submissions are always from CJA members, making this another reason to be a member (I'm not), so you have another chance to win an award.