This latest edition of Top eBay Chess Items by Price (March 2010) marks the ninth anniversary of the series. It appears that I've managed to get this far without a single post featuring cats. I imagine that's because cats and kittens playing chess are a common theme and most artwork based on the theme sells on eBay for less than $100.
A few years ago we saw The Kitten Theme (January 2016), where the kittens were only a detail in the work. A few years before that we had Moonwhisker Chess (December 2014) in the old Flickr Friday series. In the ongoing fight btween cats and dogs, neither has the upper hand on this blog.
Titled 'Nora Chease - Two Tabby Cats Playing Chess! - 19th century oil panting - 1881', the painting shown below initially listed for US $2000. It sold for between $1300 and $1500, 'Best offer accepted'.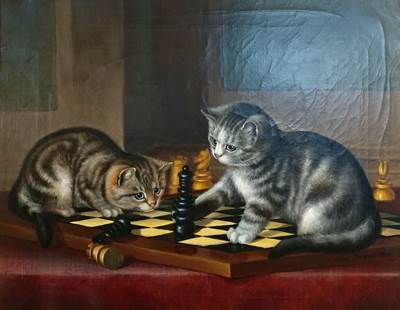 The description of the auction repeated the title and added,
Oil painting on canvas -- Signed and dated
Frame size 27 x 32"
Canvas size 16 x 19"
In excellent condition
A Google image search on 'Nora Chease' picks up other examples of the same work, including Exquisite Nora Chease - Two Tabby Cats... (decaso.com; once listed for $2900, 'This product is no longer available') with the same picture frame. I couldn't find any biographical info about the artist, except that she was British. She also liked painting animals.