In last week's post on two top ongoing engine competitions, TCEC S15, CCC6 S3 : Both Underway, the title hinted that both events were just getting started.
TCEC: The first event, 'S15 - Division 4a', has already finished and 'Division 4b' is underway. • CCC6: The 200-game [final] match started two days ago and is moving quickly, with about 1/4 of the games already finished.
A week is a long time in an engine tournament and those stages have finished and morphed into other events.
TCEC: TCEC S15 division 3 is currently underway. The two top placed engines in divisions 4a and 4b all met in a playoff, from which the two top engines qualified into division 3. The AI/NN engine AllieStein (Allie + Stein) was one of the two qualifying. The TCEC also published a wrapup report on S14:-
TCEC deserves credit for setting the standard in engine competitions.
CCC: Just as in the latest TCEC final (see the February post, Stockfish Wins TCEC S14) Stockfish edged Leela in the CCC6 final match. The following chart shows the game-by-game result of the match (10 rows with 20 games per row) from the Stockfish point of view.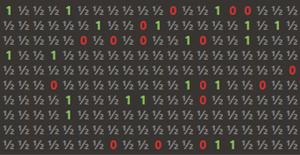 Stockfish score: +19-16=165 (101.5-98.5)
In the two days since the match ended, the chart is the only official record published by Chess.com. Let's hope the match PGN will also be made available.
According to reports on other sites, the site is preparing CCC7. In the meantime, it is conducting the 'Bongcloud Bonus (10|10)', where ten top engines are forced to start the game with 1.e4 e5 2.Ke2. Ugh! Which engine will achieve the most draws as White?
I'm a big fan of unorthodox openings, but attacking with the King on the second move is void of interest. Since there are so many better ideas for a thematic tournament, you have to ask what the organizers were smoking.
[For further information from the various stakeholders in the main events, see the tab 'TCEC/CCC Links' at the top of this page.]